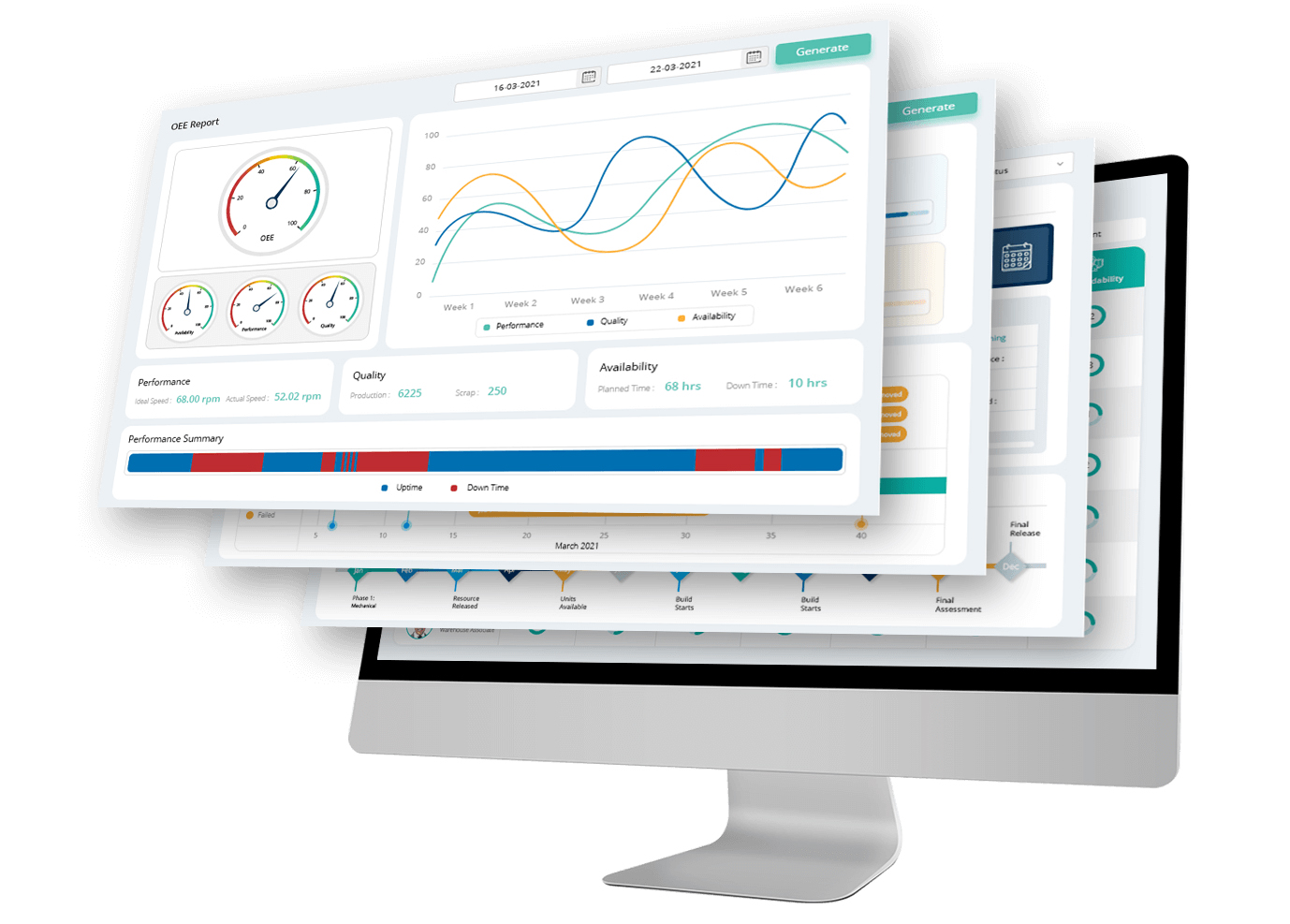 Schedule Your Work Orders with T Card Software
Visualise production plans and allocate work orders to machines automatically.
Start Free Trial
Demo Video
Trusted Partner

for Businesses
Across the World

Irrespective of industries, Digital T Card Software enhanced their business processes.
Visualise Production Plans with Digital T Cards
Flexible | Visibility | Unlimited Cards | Web Based T Card | Activity Stream | Drag and Drop
T Card software is a web based solution for production planning, employee scheduling and production execution. This web based t card solution helps the manufacturer to transform the factory into an Industry 4.0 environment.
Replace Physical T Cards
T Card for Production Planning
Simplified IT Administration
Work Order Planning, Scheduling, Tracking and Execution
Individual and Team Board View
Detailed Card Information with Specifications
Checklist for Each Process
Easy to Reschedule the Tasks
What is T Card?
Simple Dashboard View of Entire Production Plan
Machine Availability | Work Order Allocation | Scrap Analysis
Visualise your production plans with T card Software. Digital T card software accurately keeps track of the entire process, from work order planning to execution.
Work Order Planning and Execution
Optimise Overall Process
Save Time and Reduce Confusions
Allocate Machines for Each Work Order
Records and Analyse Scrap
Web t cards/Online T card system
Read More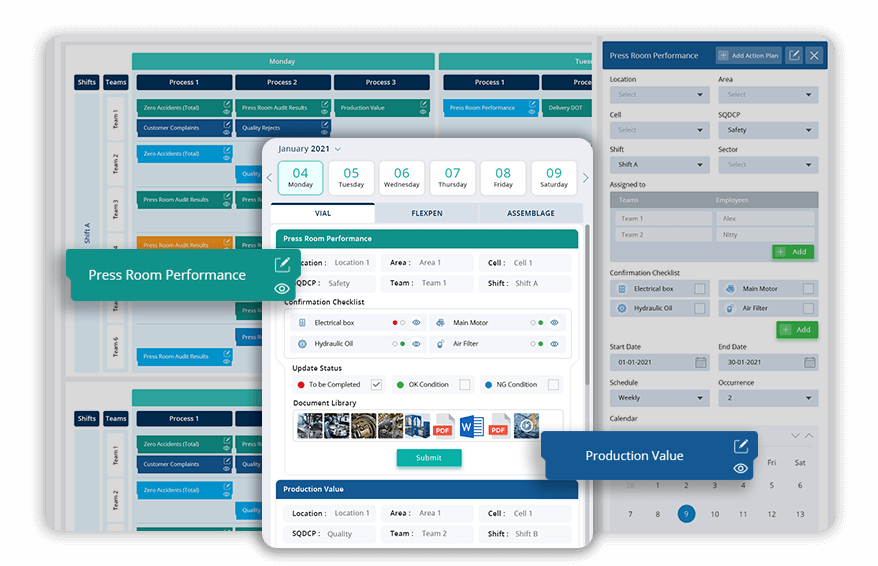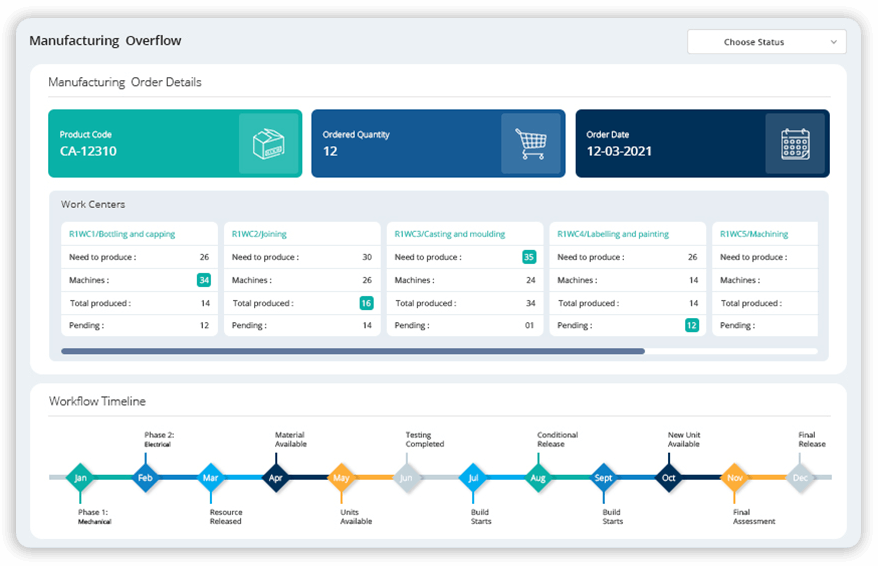 Wrestling with Work Order Management?
Work Order | Timeline | Check sheets | Switch Process
T Cards online software effectively tracks and manages all work order information through a single dashboard and ensures all the processes are completed in the right way-every time. It provides a visual representation of the workflow, employee shift cycle, risk management, and downtime reporting. Our T cards systems allows manufacturers to quickly create a work order, timeline activities, work status, and check sheet to improve the production process by optimising the process.
Visual Work Order Planning and Management
Timeline Representation of the Workflow
Check Sheets to Ensure Quality
Work Order Status and Percentage of Completion
Automatically Allocate Work Orders!
OEE | Production Planning | Work Order Allocation
Digital T Card system software will track real-time information on machines available for production. A newly received work order can be easily allocated to machines. Machine availability in manufacturing denotes the efficiency of the machine that is run time vs planned production time.
Machine Availability
Real-Time Information
Work Order Management
Run Time vs Planned Production Time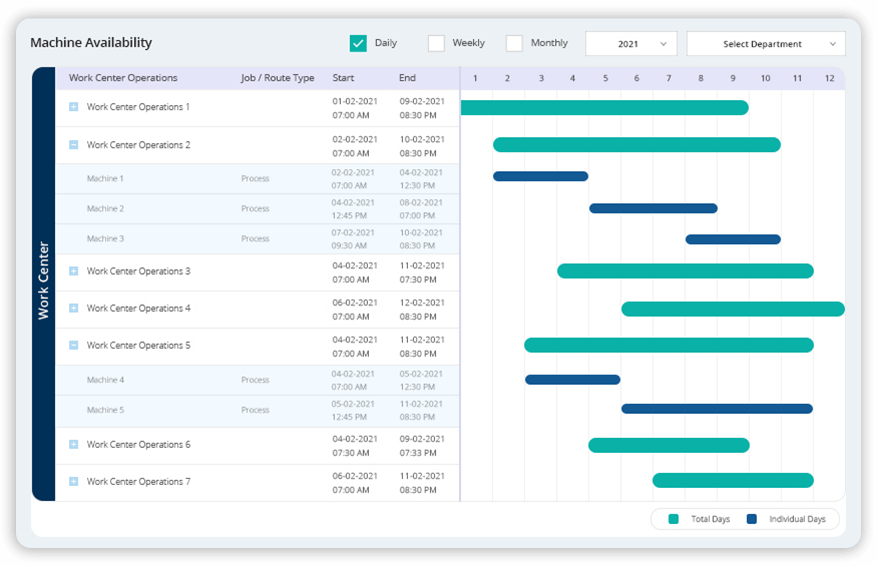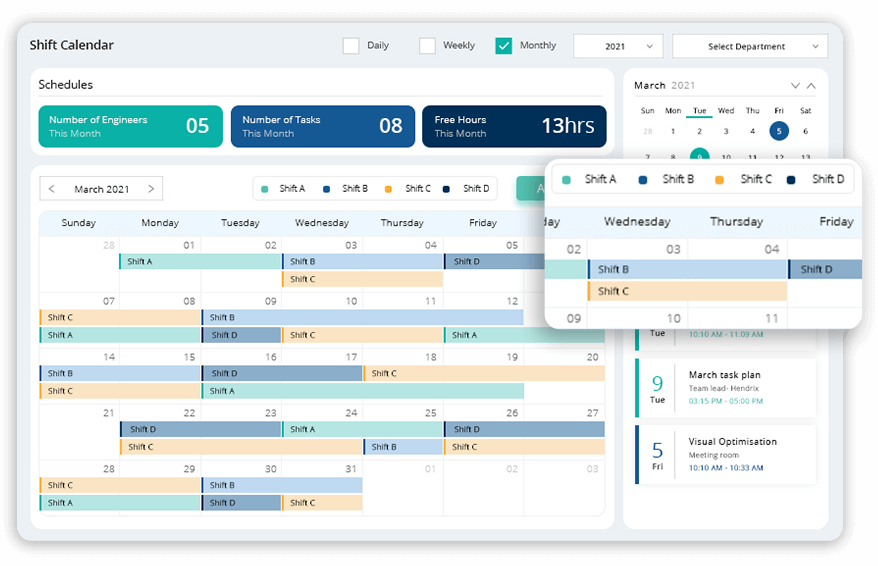 Easily Track, Manage & Streamline Shift Management
Shift Type | Employee Shift Assign | Shift Duration | Shift Calendar
It is important to have a streamlined employee shift management process to ensure a smooth production flow in the factory. The employee shift management module enables the employer to effectively optimise their shift scheduling, planning, and shift calendar with utmost accuracy.
Streamlined Shift Management
Integrated Shift Planning and Scheduling
Track Employees
Work Shift Calendar
Read More
Measure OEE, the Heart of Manufacturing!
Best Manufacturing Practice | Measure Productivity and Effectiveness
Overall Equipment Effectiveness (OEE) is the standard for measuring manufacturing productivity. It helps manufacturers identify the percentage of manufacturing time that is truly productive.
OEE Analysis
OEE Reports
Insights on Improving Manufacturing Process
Productive Manufacturing
Read More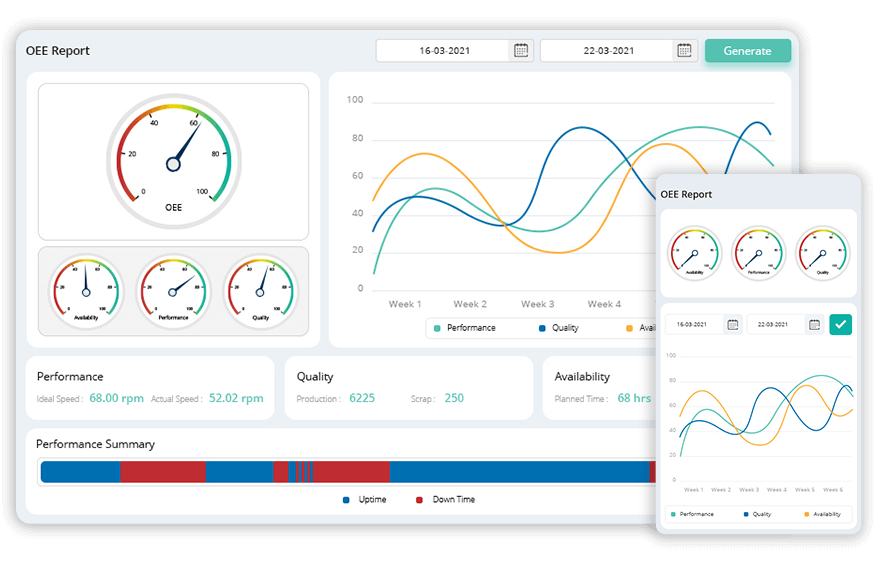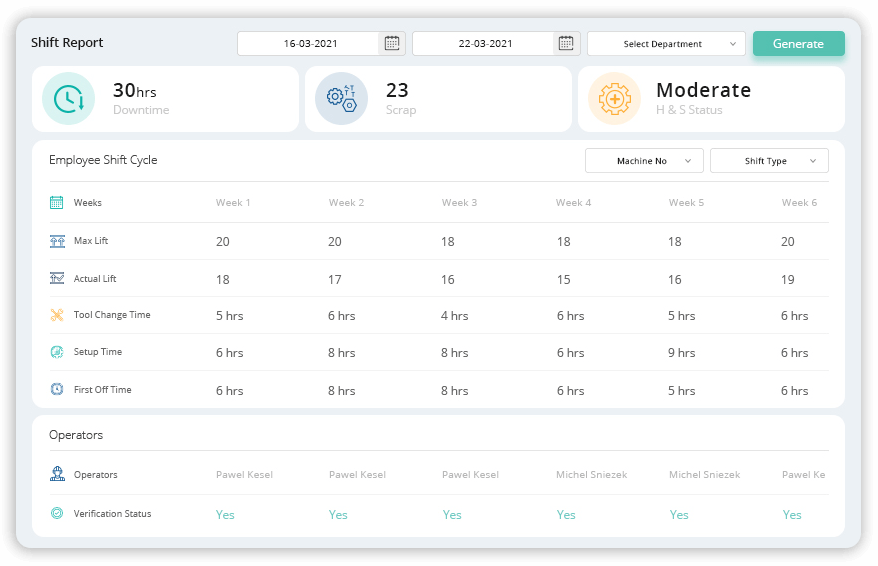 Maximise Efficiency, Stay on Track
Detailed Reports | Easy Analysis of Shifts | Identify Highly Productive Shifts
Shift Output Reports shows the productivity of different shifts. The efficiency of machines that work on each shift is analysed and reports are auto-generated. Manufacturers can identify the shifts that have high productivity levels and can allocate work orders.
Real-Time Reports
High Productivity
Auto-Generated Reports
Machine Efficiency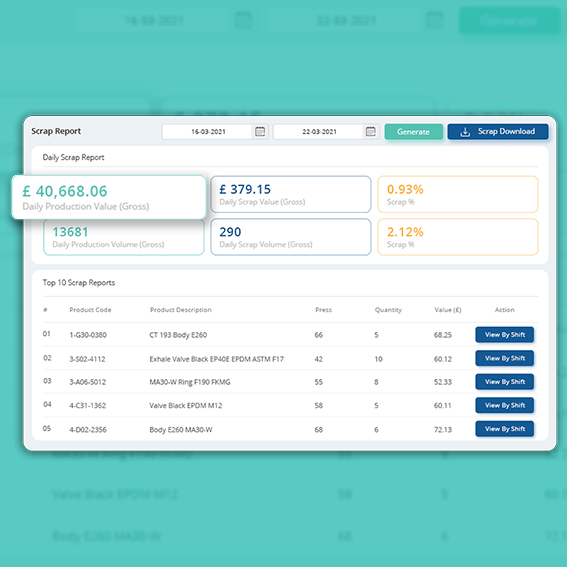 Real-Time Scrap Report Analysis
Scrap Analysis | Scrap Reason | Root-Cause Analysis |
The scrap reporting option in the T Cards systems provides the ability to record and analyse scrap reason that occurs during the production process.
Recording Scrap Number and Scrap Reason
Real-Time Scrap Reason Analysis
Root-Cause Analysis
Prevent Recurrence
Read More
Job History and Risk Management
Hazard Level | Risk Ranking | Track and Report Risk | Risk Duration
Job history provides a complete record of the job scheduled for each employee. A single click can quickly view shift patterns, working hours, and hazard level details. As the complexity of high risk level task grows, there is a critical need for efficient ways of structuring the risk landscape.
Details of Scheduled Tasks
Measure Hazard Level
Real-Time Accessibility
Risk Analysis and Control
Read More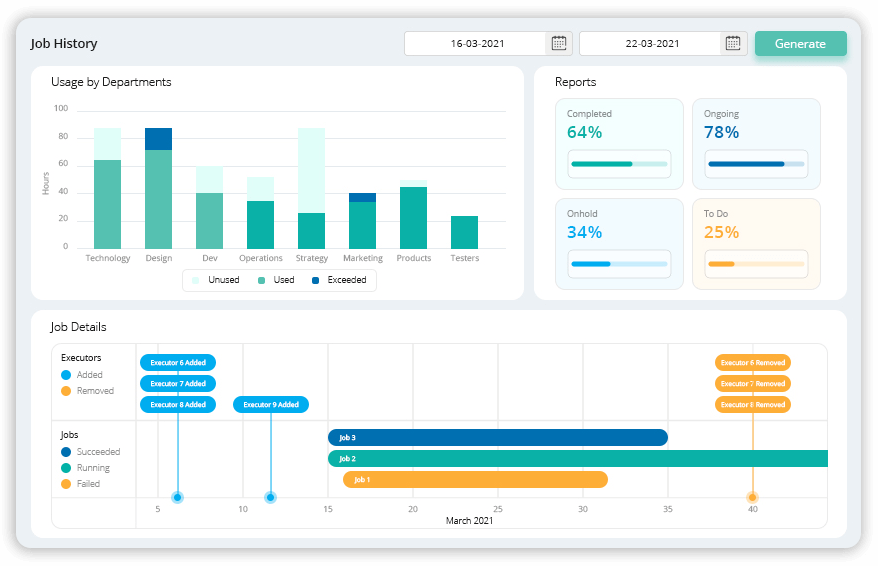 We Customise the Digital T Card App
for Different Industries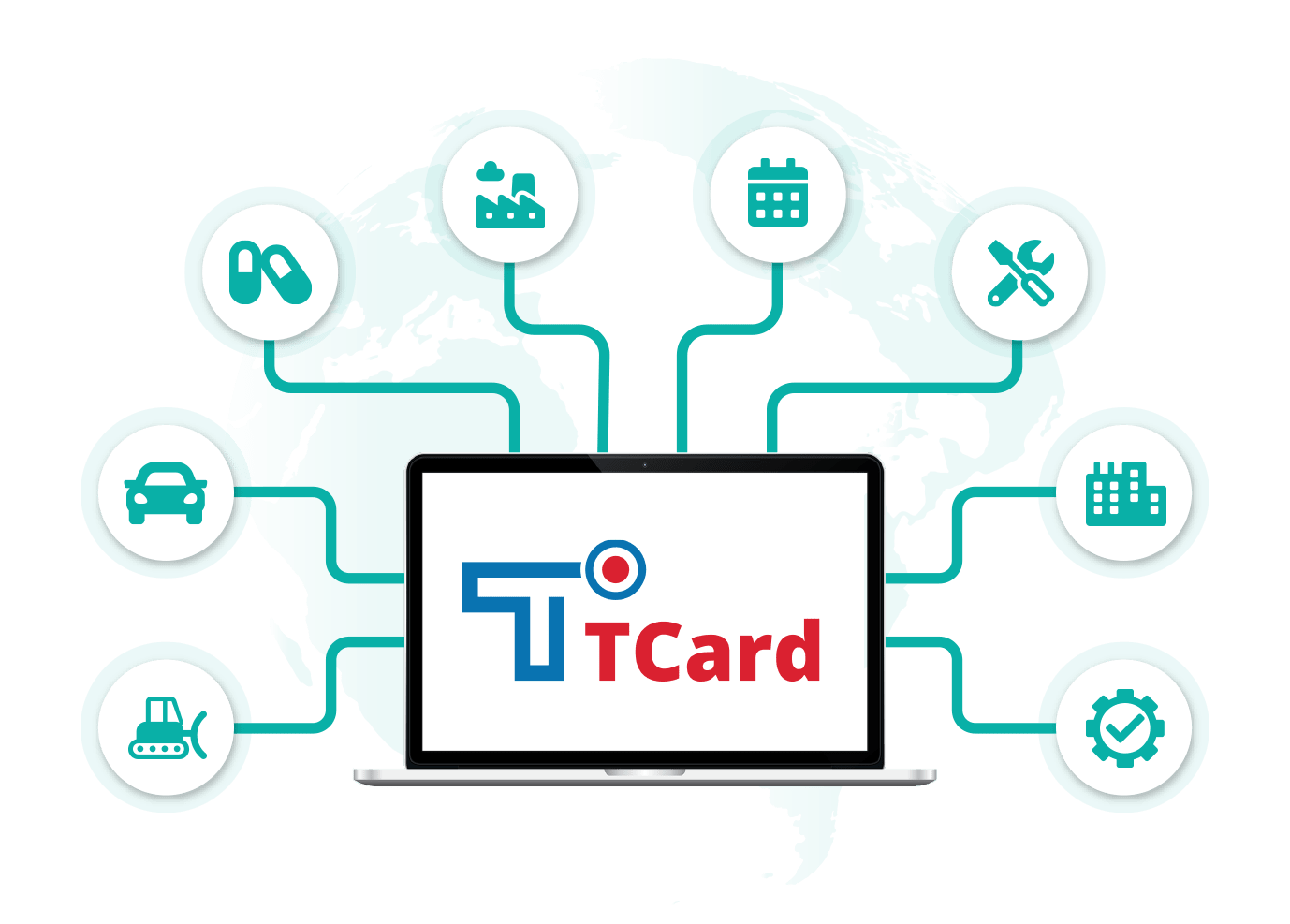 Explore possibilities for Individual Improvement
Employee Skills | Competency Levels | Individual Improvement
An employee skills matrix gives an overview of a team's skills, knowledge and competency levels. Using a skill-matrix, employers can quickly identify employee skill levels in different operations.
Team's Skill Overview
Employee Appreciation
Skill Identification
Increase Competency Level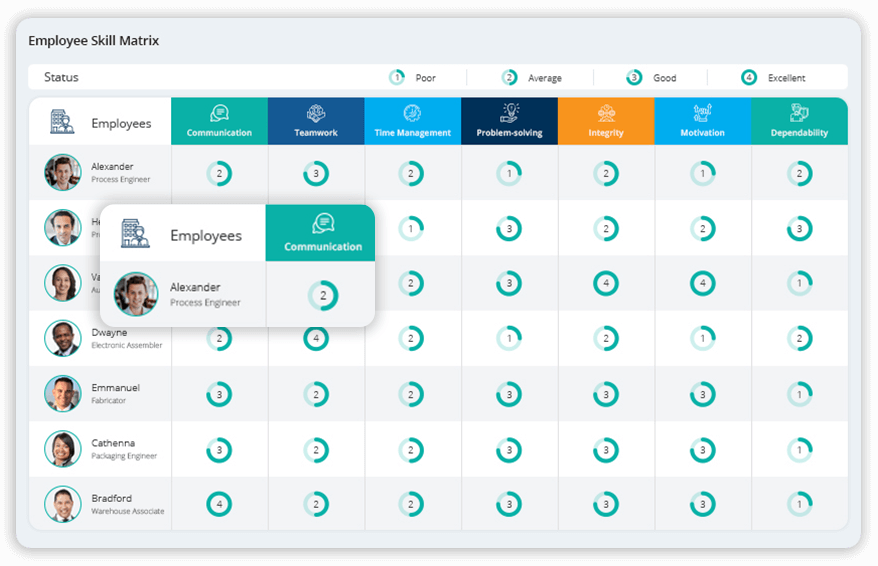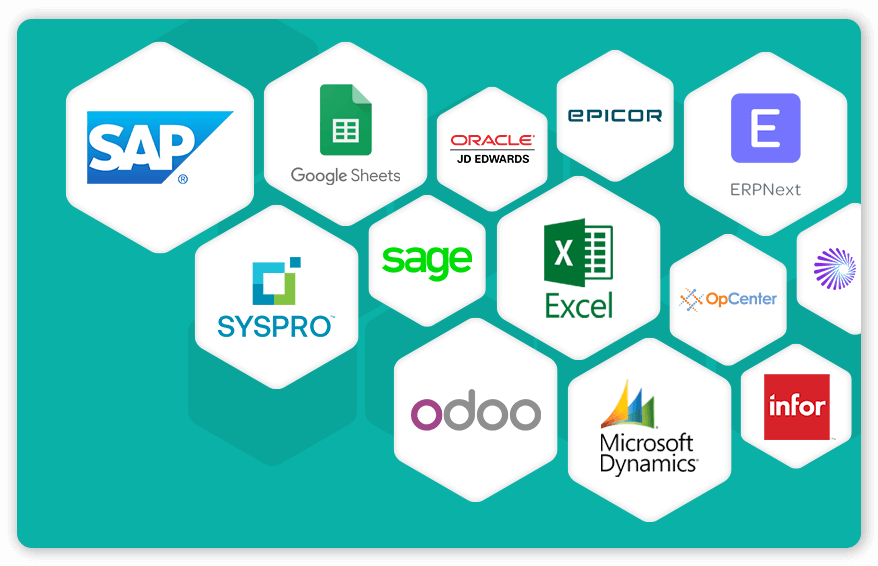 Easily Connect to MES & ERP Systems
Integrated Communication | Automation | Single Sign-On | Data Consistency | Rest API
Digital T card system software is dynamic as it will integrate with the other management information and ERP systems in the organisation. The Electronic T Card systems automatically receives all the departmental data from the ERP system using the REST API service.
No Data Redundancy
Increased Flexibility and Process Efficiency
Centralised and Accessible Information
Saves Data Entry Time and Cost
Comprehensive Process Visibility
Integrated Operation
Read More
Request Your 1-Month Free Trial!
T cards are a simple and effective tool to track and record various processes in any business. Irrespective of industries, all organisations benefit from t cards.
Dynamic Production Reports and Charts
Dynamic Reports | Graphical Representation | Detailed Analysis
Dynamic T Card software provides a graphical representation of various manufacturing processes. Customise multiple reports for the organisation to track and monitor overall performance.
Read More