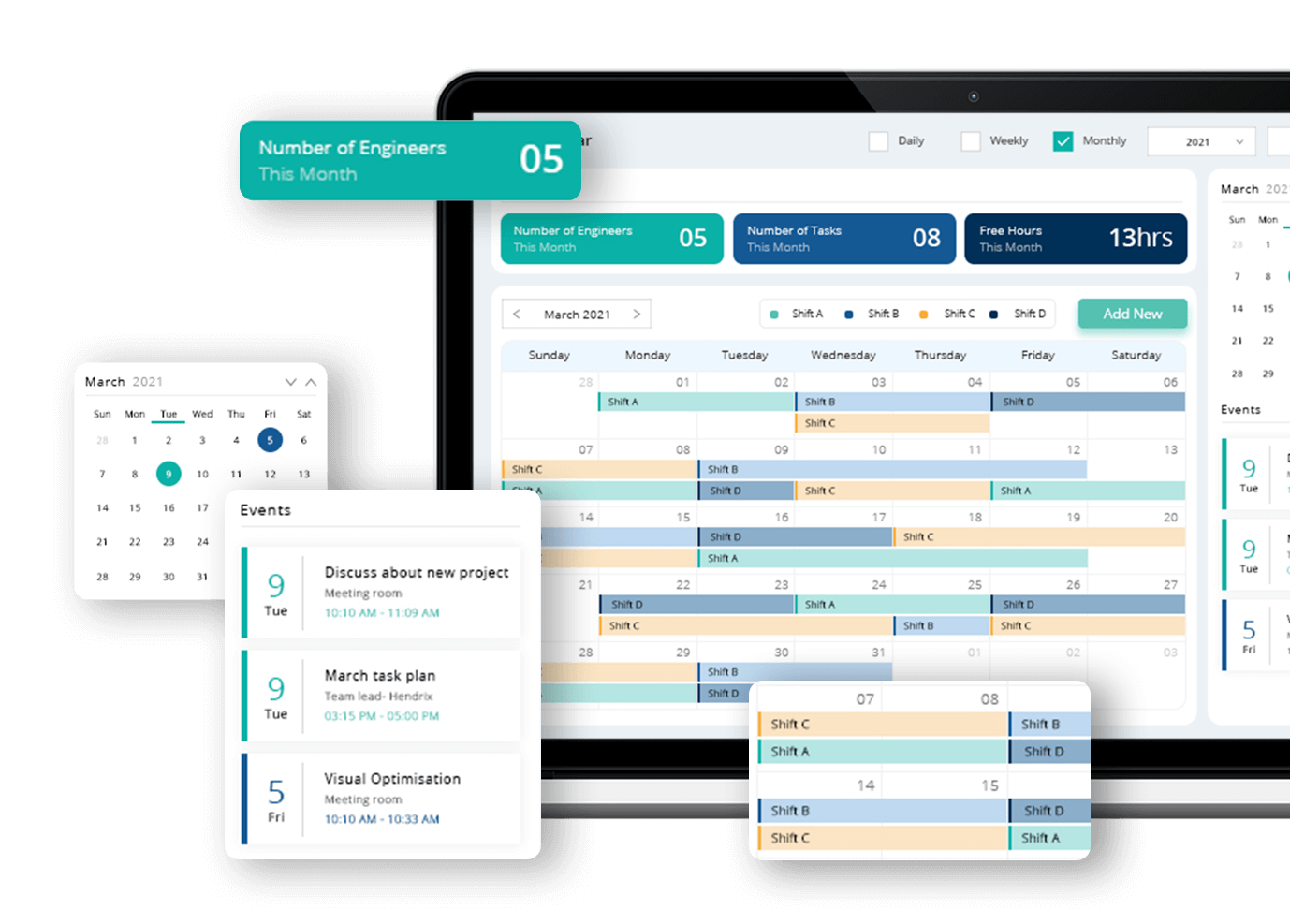 Easy Scheduling Using Digital T Cards
Schedule, allocate and execute each task in advance using Digital T Card.
Start Free Trial
Watch Video
Trusted Partner

for Businesses
Across the World

Irrespective of industries, Digital T Card Software enhanced their business processes.
Simplify Task Scheduling
Create tasks in a Click! Schedule each task in advance, allocate and execute them. Assign responsibility to individuals. Enter details such as who, what, when and how in T cards.
Read More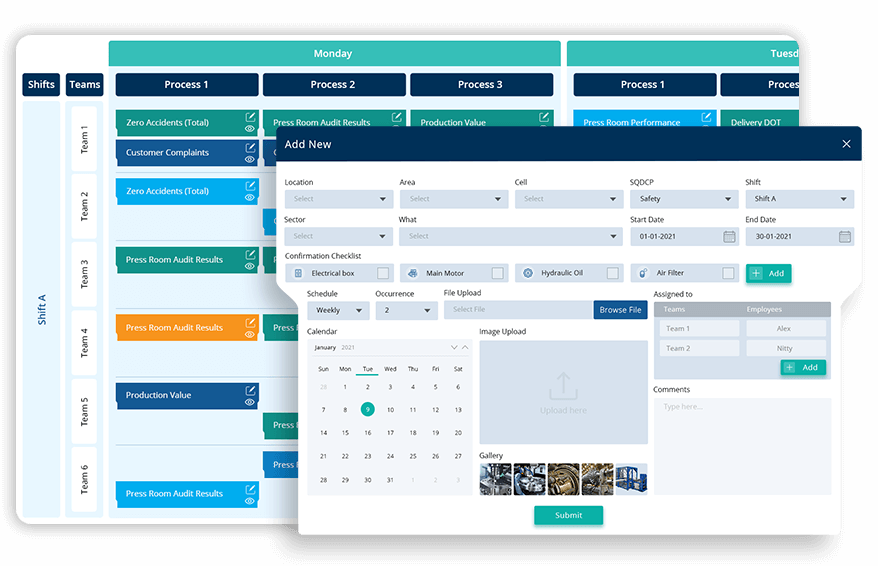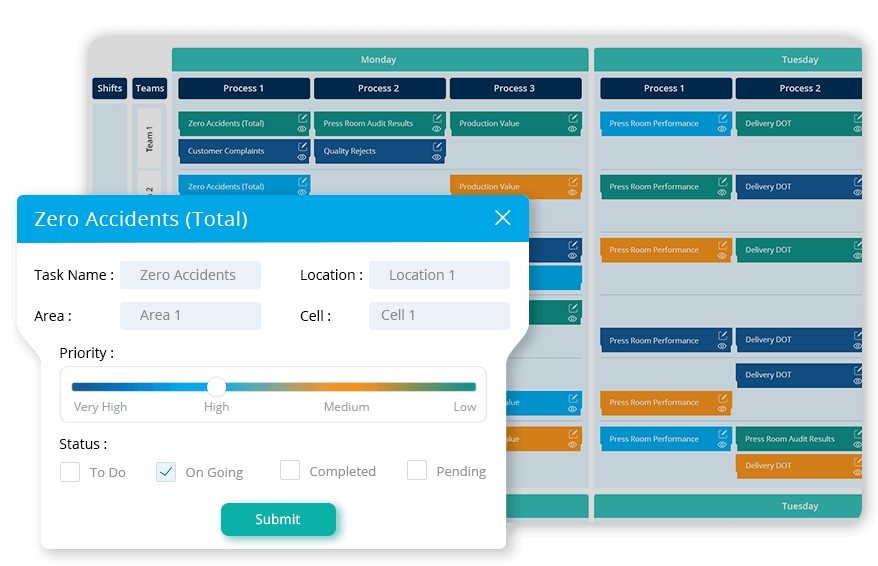 Prioritise and Allocate Jobs
Prioritise task using multicoloured T Cards. Allocate tasks to individuals and get it done on time. Job allocation is easier than ever. Detailed information in T cards will avoid confusions.
Read More
Calendar View of Scheduled Tasks
Get an overview of tasks and assigned employees, using calendar view. See at a glance the scheduled, ongoing and pending task details. See task history and status updates in real-time.
Read More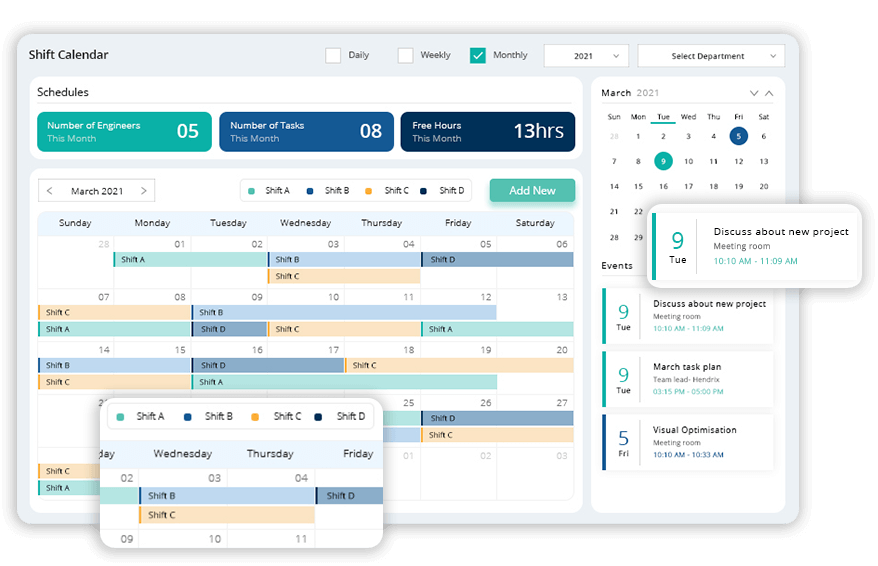 Easy Drag-and-drop Scheduling
Seamless drag-and-drop functionality for effortless scheduling and rearranging of T-cards. Comprehensive visual representation of T-cards with clear labelling and categorisation options. Drag-and-drop the T cards onto specific dates or time slots for precise scheduling. Automatically adjust the task status when a T-card is moved to a different slot. Changes to employee shifts are easily made. Manage the task scheduling with the Parent-Child cards and detach child cards for making edits.
Execute Tasks with Consistency
Let there be no delays in the whole process. From task scheduling to execution, the T card ensures consistency. Monitor performance and increase efficiency. Continuous monitoring gives consistent results.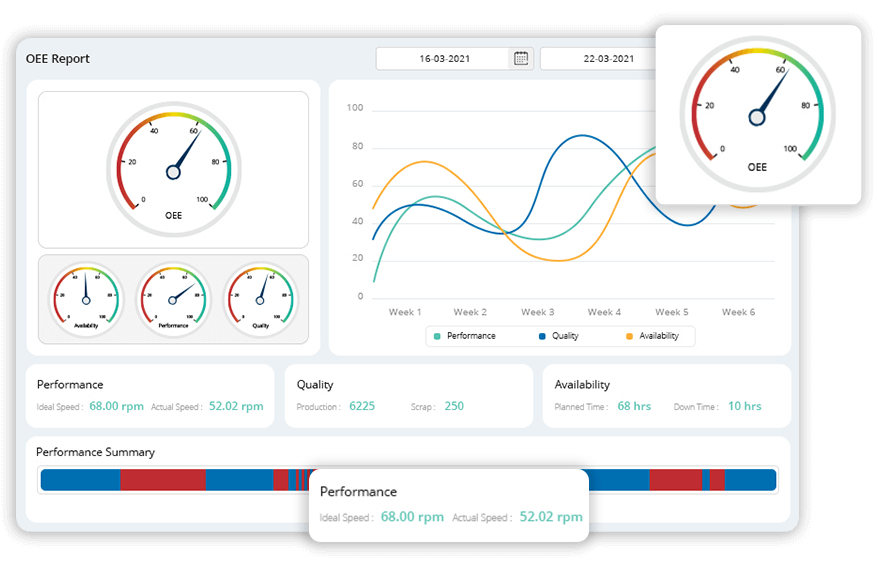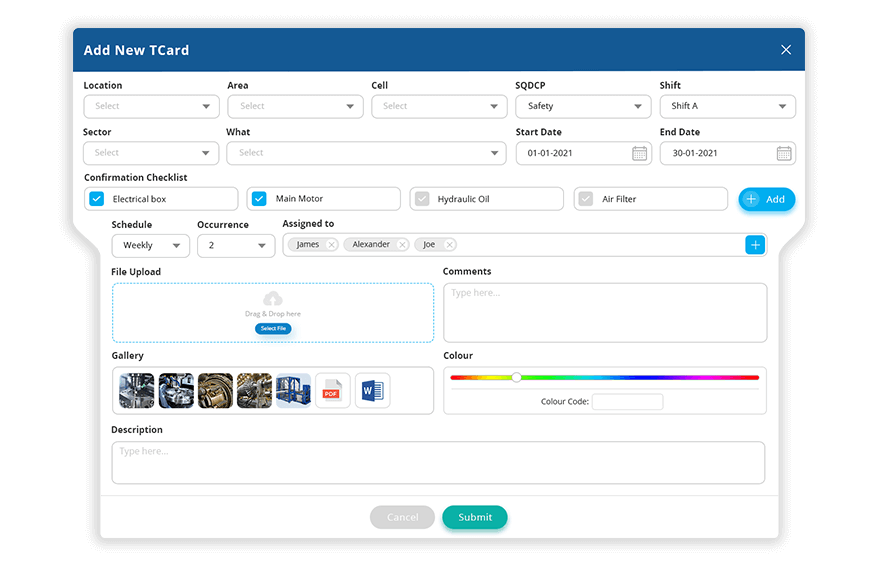 Card Customisation
Customise the T cards to fit your scheduling processes. Simple, user-oriented T card boards let you create unlimited T Cards. Visualise each scheduling task with the different card colours. Track your schedules and their progress with the T cards containing the details such as task names, dates, team members, and notes in the card layout design. Also, attach the supporting documents to the task or event on the card.
Read More
Accessible from anywhere, at any time
Access and edit your schedules on any device, anywhere and anytime. Stay organised in every scheduling process and update schedules with your team in real time. Manage your schedules conveniently from compatible devices like laptops, desktops, tablets, or mobile phones. Changes made to the schedules are instantly synced across all integrated devices. Receive schedule notifications via email and mobile push notifications. Easily adjust to different time zones and view your schedules from anywhere. Cloud-based storage ensures data security for all schedules.
Read More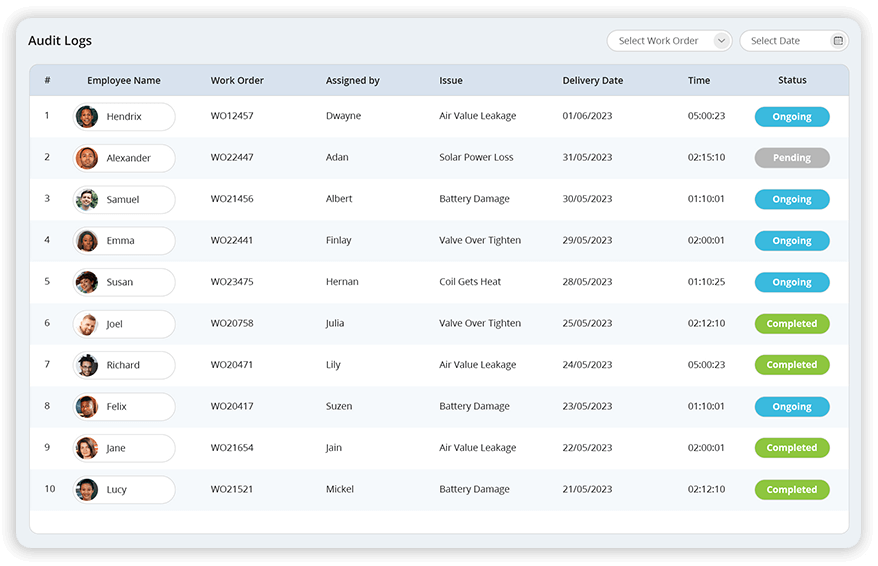 Unlimited Event Logs
Keep track of all your schedules by storing the event histories and audit tracks comprehensively. Access a complete history of scheduling events and resolve errors. Use event logs and audit trails as internal and external reporting documentation. Get valuable insights into bottlenecks, delays, or inefficiencies in the scheduling process through audit tracks. Let new team members understand the scheduling process by reviewing past events.
Flexibility in user permissions
Control the authorisations and limit your access as per the requirements. Assign scheduling responsibilities to specific individuals or teams. Choose who can modify or update schedules and set your scheduling TCards accordingly.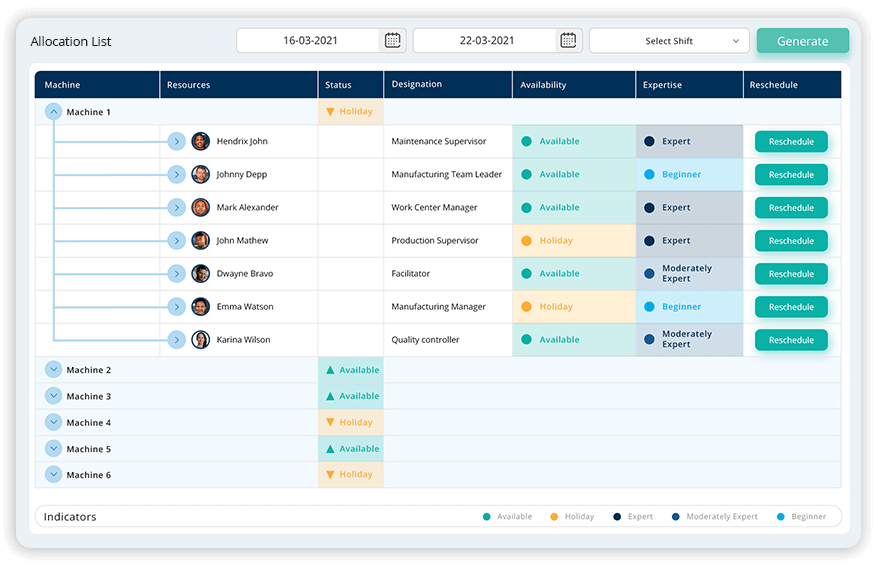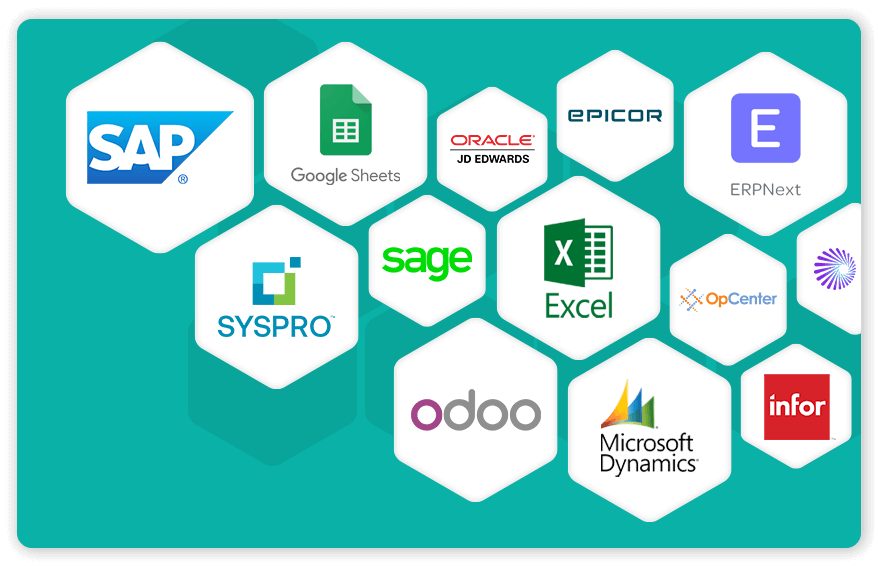 External integrations and Process Automation
Flexible MES and ERP integration for improved efficiency and overall management. Integrate your existing resources and tools with T cards and easily manage your daily schedules. Automate tedious procedures and get notified on any device with T-cards. Eliminate the need for manual data entry or duplication of information. Real-time updates and synchronisation of scheduling data. Keep informed about schedule updates, task assignments, and approaching deadlines. Get insights into scheduling trends, resource utilisation, and areas for optimisation.
Read More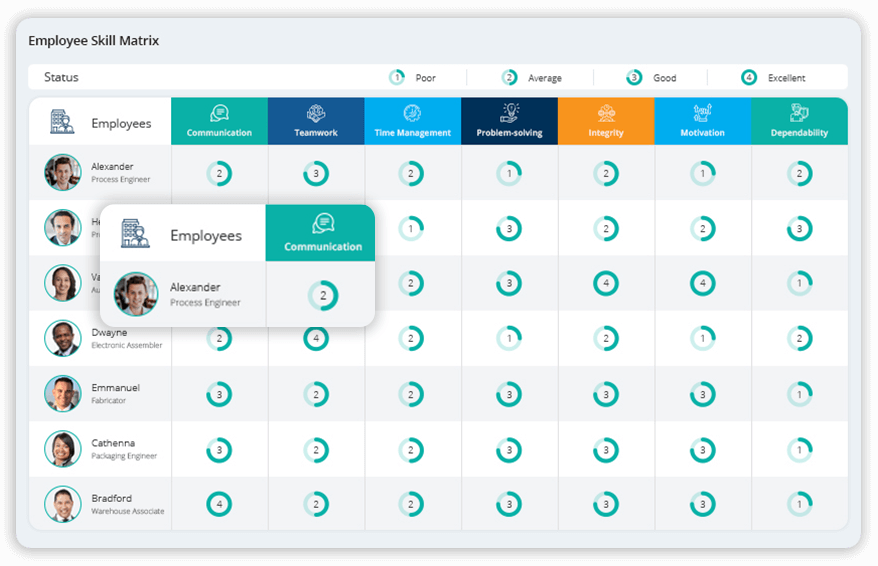 Align Goals Within Organisation
Align organisational goals from top to the bottom level. Monitor how well teams are performing, to achieve the set organisational goals. Maximise efficiency by executing tasks on time.
Start Free Trial
Countless Reports
Get countless digital reports. T card collects all related information on scheduled, ongoing and pending tasks and auto-generates reports. Analyse how effectively each task was executed.
Read More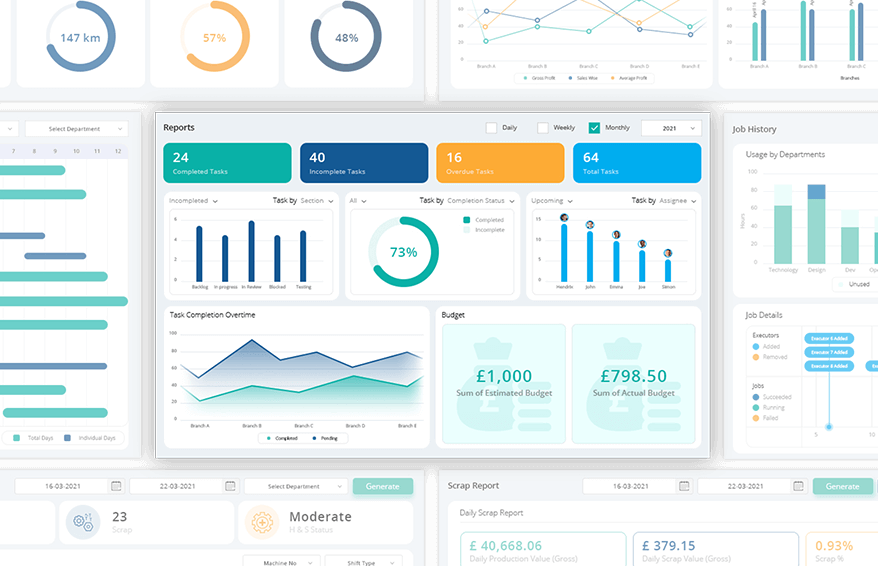 What are the benefits of using a T card to streamline the scheduling process?
Manage your time and resources effectively with Tcards. Prioritise tasks, set deadlines, and track progress easily using scheduling T cards. Complete priority tasks efficiently and on time.
Task Allocation

Assigning tasks creates a sense of accountability and responsibility. T card enhances visibility, communication, and collaboration. Effortlessly determine the individuals responsible for each assigned task.

Workflow Scheduling

Schedule tasks and track progress. T-cards manage deadlines and ensure timely task completion. T-cards ensure teamwork and task prioritisation. T cards help in managing and planning large projects efficiently. T-cards assist in workflow optimisation by tracking the status of each task.

Maintenance Scheduling

Get assistance in equipment maintenance through maintenance schedules. T-cards allow for better coordination of maintenance operations between teams and maintenance technicians. Reduce downtime and increase equipment efficiency with timely maintenance. Track the progress of maintenance operations in real-time. Carry out regular inspections, repairs, and replacements of components without any hassle using T card scheduling software.

Projects Scheduling

Effectively visualise and organise your project schedules using T cards. Identify priority tasks, resource allocation and timely completion of projects. Track progress and stay on top of your projects.

Resource Scheduling

Optimise resource scheduling with T cards. T card helps you reduce idle time and the risk of delays caused by inefficient resource management

Scheduling Equipment

Scheduling and tracking equipment is made easy with T cards. Track equipment's name, location, maintenance schedule, and availability. Check the history of equipment usage. Identify any issues or trends that may require attention.

Employee Scheduling

Schedule and track employee shifts. Make it easy for employees to see their schedules. Managers can easily track available employees. Prevent scheduling conflicts through proper scheduling and ensure that shifts are adequately staffed.

Scheduling Field Engineers and Contractors

Organise and manage field operations effectively using T cards. Get an overview of project progress and allocate resources accordingly. Enhance visibility into project costs and timelines. Track the location of staff and ensure who can take on upcoming tasks and improve communication between engineers and office personnel.

Client Scheduling

Track the status of client appointments or meetings with the details like date, time, and location in T cards. Assign each appointment to a specific staff member or team and thereby identify the scheduling conflicts. Ensure your clients are always getting the best possible service.

Time Scheduling

Manage deadlines on time, prioritise tasks easily, and ensure enough time is allotted to various tasks through time scheduling.
Scheduling T cards for various industries
T-card scheduling is a versatile visual management tool adopted by various industries. The ease of use makes it an effective way to track and manage your tasks and ensure efficient and timely completion.
Despite our best efforts, if you need help finding your industry in the list below, don't worry. We are always ready to customise our software to meet your business needs!
Manufacturing / Production Industry : T-cards help to plan and organise production schedules in the manufacturing and production industry.
Analysing machine availability, work order allocation and scrap analysis.
Identifying bottlenecks and optimising resource utilisation.
Visualising production stages from work order planning to execution.
Managing transport and inventory on a single dashboard.
Tracking production output and identifying areas of improvement.
Construction Industry : T Cards for construction manage project schedules, track equipment and material deliveries, and ensure that tasks meet deadlines.
Real-time tracking of construction processes.
Efficient management of documents generated across the project lifecycle.
Assigning contractors with resources and tasks.
Managing shift calendars.
Improves communication between project schedulers and construction teams.
Plant Hire /Equipment Rental Industry : T-card scheduling in the plant hire or rental industry allows companies to track inventory easily, manage bookings, and optimise workflow.
Real-time visibility of stock levels and planning resources
Store details of rented equipment and users.
Include company details in parent cards and rented equipment in child cards when multiple inventories are rented.
Asset breakdown indication
Schedule required and recommended safety inspections.
HVAC Industry : T-cards help field service management and optimise service technician scheduling in the HVAC industry. T card scheduling offers a reliable and efficient way to address HVAC industrial needs like :
Tracking and management of inventory across various locations.
Assigning technician and estimated hours.
Coordinating office and field communications.
Managing client details like name, service history records and contact details.
Tracking the status of all invoices.
Healthcare Industry : T-cards help field service management and optimise service technician scheduling in the HVAC industry. T card scheduling offers a reliable and efficient way to address HVAC industrial needs like :
Tracking and management of inventory across various locations.
Assigning technician and estimated hours.
Coordinating office and field communications.
Managing client details like name, service history records and contact details.
Tracking the status of all invoices.
Pharma Sector : T cards keep track of Good Manufacturing Practices(GMPs) and minimise pharmaceutical production risks.
Real-time analysis of pharmaceutical production.
Enhanced Quality Control.
Easy Documentation of Production Process.
Tracking the performance score of each employee through Employee Skill Matrix.
SQDCP dashboards for better visualisation.
Automotive Industry : The T-card scheduling system can track and manage the automotive production processes in the industry.
Real-Time visibility of sales, delivery and status of each task.
Getting updated information on available stocks and shortages.
Managing deadlines and enhancing productivity.
Assigning and planning tasks within a single dashboard.
Analysing previous delivery details.
Logistics and Transportation Industry: T-cards are often used in the logistics and transportation industry to track the movement of goods and vehicles from the initial order to the final delivery.
Easy tracking of goods and shipments as they move through the supply chain.
Quickly identifying delivery schedules and delays.
Adjusting the schedules in real-time.
Improved communication and coordination between drivers and dispatchers.
Hospitality Industry: T-cards manage hotel room assignments, track guest requests, and ensure the hospitality industry completes the daily operations and maintenance tasks promptly.
Allows for easy tracking of employee shifts.
Enables easy adjustments to schedules in response to changing demand or employee availability.
Track employee training and certifications, ensuring staff are assigned the right tasks.
Education Industry: The education industry uses T-cards to manage classroom schedules or student assignments.
Tracking and managing schedules for multiple classrooms, teachers, and courses.
Enables efficient scheduling of rooms and facilities for events, meetings, and exams.
Promotes better communication by providing a shared visual reference for schedules.
Enables quick and easy attendance tracking, with cards being moved between slots to indicate attendance and absences.
Drilling and Mining Industry: In the drilling and mining industry, T-cards are used to track the maintenance schedules for drilling equipment and vehicles and the work schedules for the mining staff.
Track drilling or mining progress and identify any potential bottlenecks in the process.
Track maintenance and repair schedules for equipment.
Proper communication schedules to all stakeholders involved in the drilling or mining operations.
Improves safety by ensuring the necessary safety protocols and procedures.
Oil and Gas Industry: T card scheduling is used to track the progress of each task and manage the maintenance schedules for equipment, including oil rigs, pipelines, refineries and storage tanks.
Tracking maintenance schedules for equipment and machinery.
Easily update and adjust the schedule as needed.
Tracking the availability and location of personnel and equipment for emergency response planning.
Reduce downtime by ensuring that equipment and machinery are maintained on schedule.
Tracking the movement of equipment and materials onsite.
Banking Sector: T card scheduling is used to manage projects and tasks related to financial planning, investment management, and risk assessment in the banking sector.
Visual representation of financial tasks and deadlines, allowing easy tracking and prioritisation.
Managing multiple tasks simultaneously, such as billing, invoicing, and financial reporting.
Enhanced communication and collaboration between team members.
Information Technology Sector: T-card scheduling manages software development projects, network maintenance schedules, and other operations in the information technology sector.
Track the progress of software development projects using Kanban boards.
Easy task scheduling and resource allocation.
Manage server maintenance schedules and updates.
How do Tcards help in scheduling your tasks?
Multicolour tcards make task identification and prioritisation easier.Tracking the progress of each task is made effortless with the calendar view dashboard. The drag and drop features bring greater visibility into the tasks, which lets you efficiently change the task status.
What is service scheduling software?
Service scheduling software is a dispatch software that optimises employee management and provides the teams with time tracking and job scheduling functionality to coordinate service delivery requests. Along with facilitating workforce management, it increases customer satisfaction, saves time and reduces costs.
Why do you need scheduling software?
Scheduling software helps the management allocate resources per the requirements and task priorities.
Tracking and delegating the required resources
Manage employee shifts
Identifying the gaps in the assignment of the tasks and filing it.
IImprove efficiency
Accessibility
What are the advantages of using the scheduling software for project management?
Opting for scheduling software can help you manage your projects more productively and efficiently.
Stay on the schedule
Team coordination
Real-time tracking of the projects
Task Delegation
Communicating progress
What is the purpose of the scheduling system?
The main purpose of a scheduling system is to manage projects according to priority. By focusing on the tasks in the order of their importance, you can keep the right track of them digitally with fewer errors. It also allocates the resources per the requirements and efficiently manages the task.
What is an automated scheduling system?
Automated scheduling software can create optimal schedules for employees according to their available time, limiting the chances of errors. Using the data from the system, predefined parameters and artificial intelligence, the best employee for that particular shift can be selected.
What is the benefit of using a digital tcard system for scheduling?
Simplify task scheduling
Job allocation and prioritisation
Calendar view of the scheduled tasks
Managing all tasks in a single dashboard
Continuous monitoring
Drag and drop functionality
Room for fewer errors
Automatic notifications and reminders
What are the main benefits of using a scheduling system in your business?
Improves time management
Allows prioritisation of tasks
Enhances efficiency
Strengthen teamwork
Workforce management
Progress evaluation
Start 14 Days Free Trial
T cards are a simple and effective tool to track and record various processes in any business. Irrespective of industries, all organisations benefit from t cards.
We Customise the Digital T Card App
for Different Industries