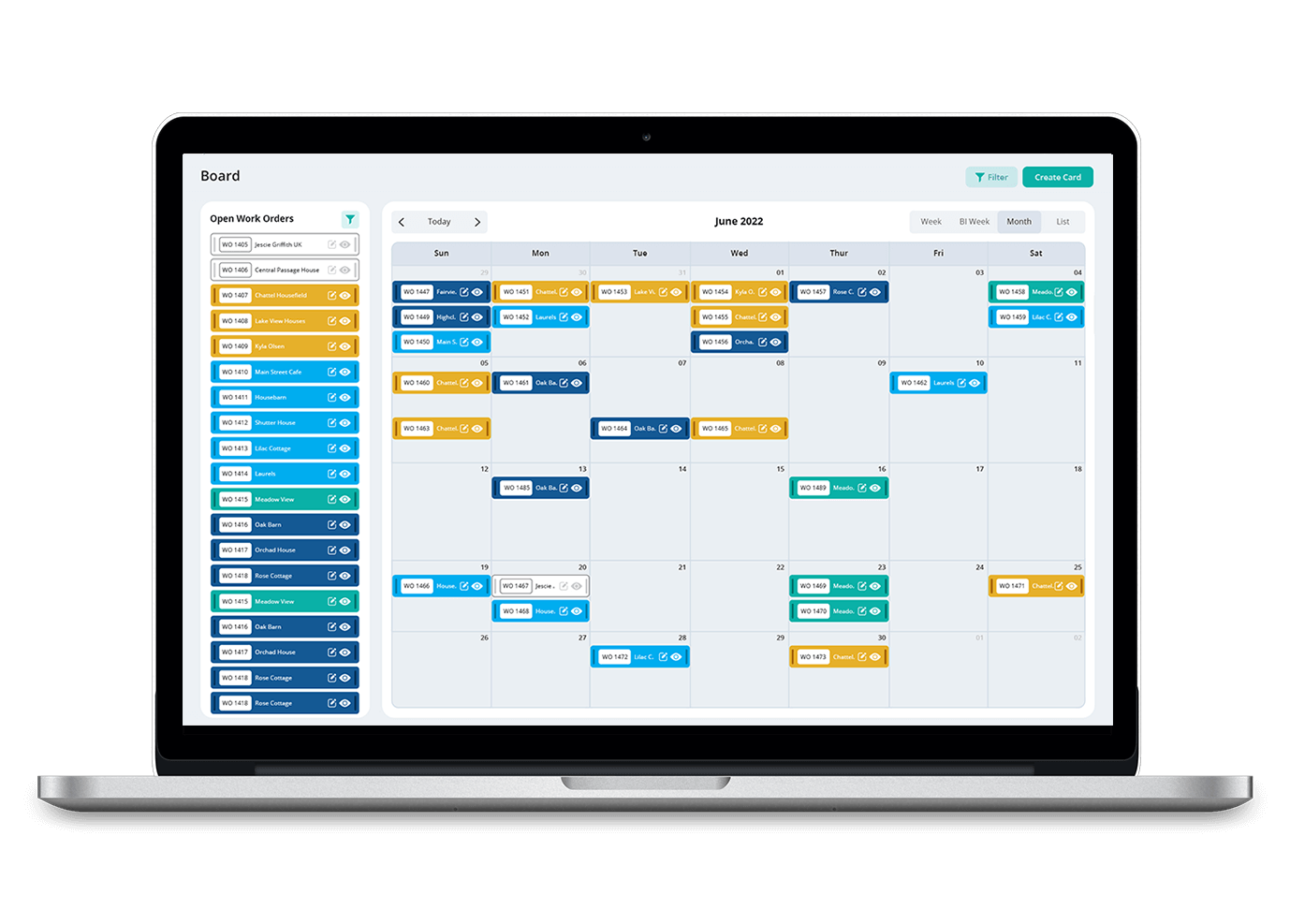 T Card Software for the HVAC Industry
Managing projects in a industry like HVAC using the traditional obsolete techniques can be a herculean task. Quick visits to several job locations for the technicians is a must. Transporting the tools, materials and equipment and tracking them with the technicians can never be a piece of cake without a proper management system. From successfully meeting all such requirements and keeping things managed along with eliminating your time-consuming manual practices, we got your back.
Start Free Trial
Demo Video
Trusted Partner

for Businesses
Across the World

Irrespective of industries, Digital T Card Software enhanced their business processes.
Project & Field Management
Streamline operations and drive efficiencies of your projects with digital tcard systems. Take the stress out of managing your projects by tracking them and managing the tasks and the schedules.
Manage and organise the project phases
Prevent double data entry and reduce room for errors
Balancing equipment maintenance, technician skills and customer details on a regular basis.
No time lost on paper works
Build checklists workflow to ensure proper functionality.
Point of contact and subcontractors can be added to a particular tcard alone.
Dashboards with the overview of the project stages, a list of technicians and their ratings, and a job timeline
Installation or replacement department board with an overview of all t cards
Flexible user permissions
Centralised customer records-contact, job history, asset records, and communication logs
Track engineer's location, monitor the status of the jobs, send quotes and invoices and visualise the results from the customisable dashboards.
Managing communications between back-office and fields.
Projects in Calendar View
Dashboards with a calendar view of everything about the assigned projects!
The complete list of all the T cards that have been created is displayed in a calendar view. The work order can be allocated here to any date by dragging the particular tcard from the list view of the calendar.
A single work order can be assigned to multiple dates.
The dates of the assigned T-cards are interchangeable.
The T Cards can be sorted or filtered using work order number, project name and stage.
Each Tcard is coloured based on the project stage assigned to a particular work order while creating a Tcard.
Can be filtered weekly, bi-weekly and monthly.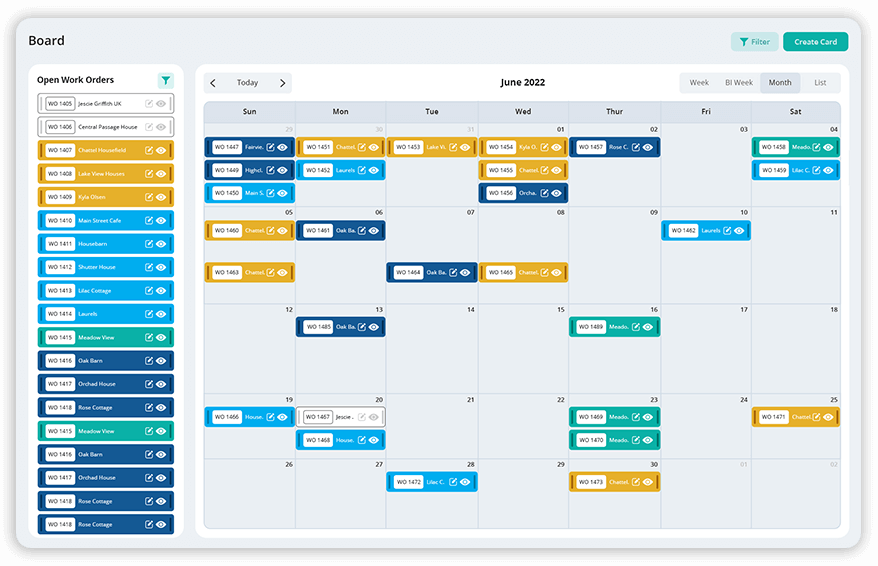 Facility Management
Are you struggling with your HVAC facility management systems? Tcards can help in scheduling the facility management services. Asset maintenance is forecasted by tracking the customer's planned maintenance schedule and service contract. The planned preventive maintenance(PPM) scheduling is made easy with the digital tcard systems. Tracking all customer's assets to monitor the work history and linked jobs and adding update records from the sites. Manual service reminders are no longer a question as they will be sent automated through our digital tcard systems.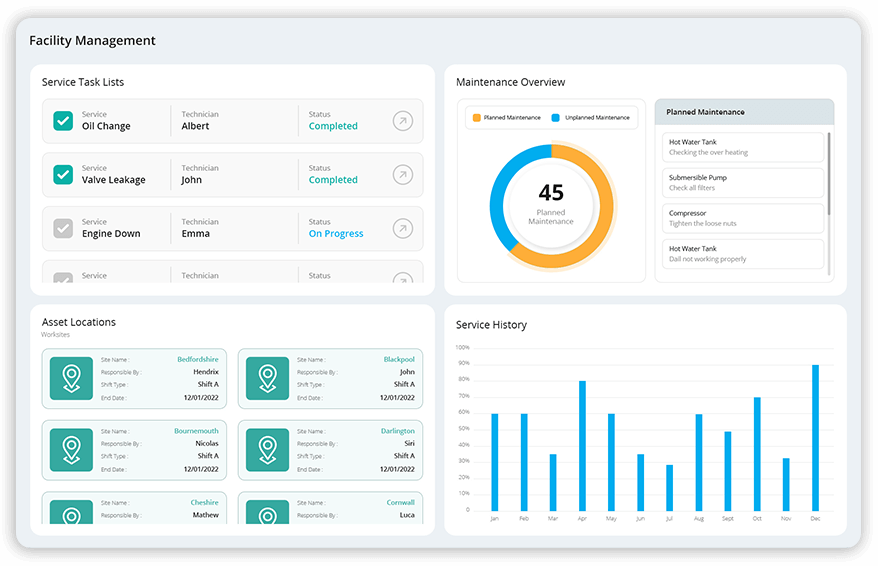 Cloud-based facility and asset management
Automated service reminders
Planned Preventive Maintenance job creations, service task lists, asset by asset service plans
Managing assets with customisable asset structures, sub assets and the ability to record any data against an asset.
Real-time site data
Manage assets across multiple locations
Elimination of interruption to workflow
Work Order Management
Digital Tcards can offer an ideal solution to streamline your work process completely. The work order can be the tasks that need to be carried out by the field teams for resolving the existing issues and installing new systems. T cards allow the work order to be placed directly. The work order can include all the necessary information that a field team must know, like the customer name, project manager, the number of work orders, the type of service, name of the assigned technician, work order status and the needed resources to complete the order.
The drop-down menu allows the addition of multiple customers. By providing real-time insights, not a single minute of the productive time of your technician is lost. Even the project managers can have real-time insights into the used resources and the field teams deployed. Offering solutions better than the Gantt charts, each T Card can provide you with the start and end dates of the tasks and other elements related to the order. The team leaders analyse this to see how effectively the team works and identify the tasks that need more time to resolve.
Work order planning and execution
Real-time scheduling of tasks
Workforce management
Attendance management
Easy handling of tasks and dispatch of the resources to the location of the customer
Work order creation, scheduling, reporting and approval of tools
Identify and assign technicians in no time.
Set up individual jobs and recurring contracts and assign multiple field technicians to a single job.
Task Management
Manage the tasks from beginning to end. Lack of visibility and missing data is no longer a question. Tcard online systems keep your team on the same page with software with all the tools you need.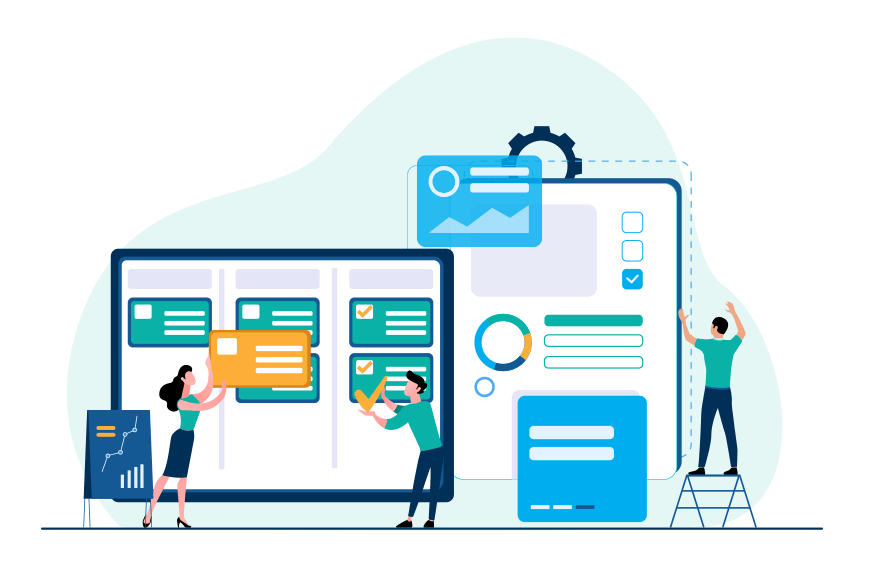 Enhance the visibility over assigned tasks to team members and have updated information
Managing the work orders without double data entry
Assign multiple people to a single tasks
Track time spent on each task and timesheet management
Save time and access job details in the field.
Real-time custom notifications
Real-time insights at all project stages
Track each work order on the project stage
Prioritisation of important tasks
Installation or replacement department board with an overall view of all
Tcards containing Work order numbers, project name, assigned technician and estimated hours.
Inventory Management
Keep account of your current stock levels of the Personal Protective Equipment, cleaning supplies, spare parts, machinery components and installation equipment with digital T-Card systems.
Managing the availability of the material resources by the specified required dates
Keep track of the actual materials and resources needed for the job.
Can add the tools, equipment and material delivery date to the TCards.
Optimal parts ordering
Identifying the spare capacity using the weekly planners and project boards.
Dispatching and scheduling
Stock Control- overseeing every part used by the HVAC business, whether in the stockroom, warehouse or transportation.
Improved oversight of the parts workflow from the supplier to the installation.
Compare materials required versus materials used.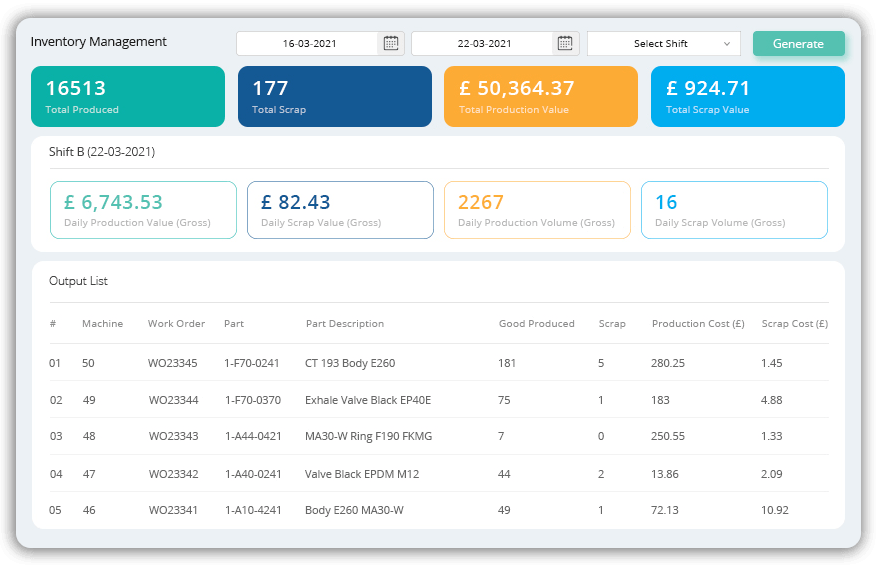 Team Coordination
Building your team of technicians, schedulers, administrators and managers, you need coordination; otherwise, you will find yourself running in circles. Key elements like real-time information and quick communication are essential to establishing this effective coordination and improving the workflow.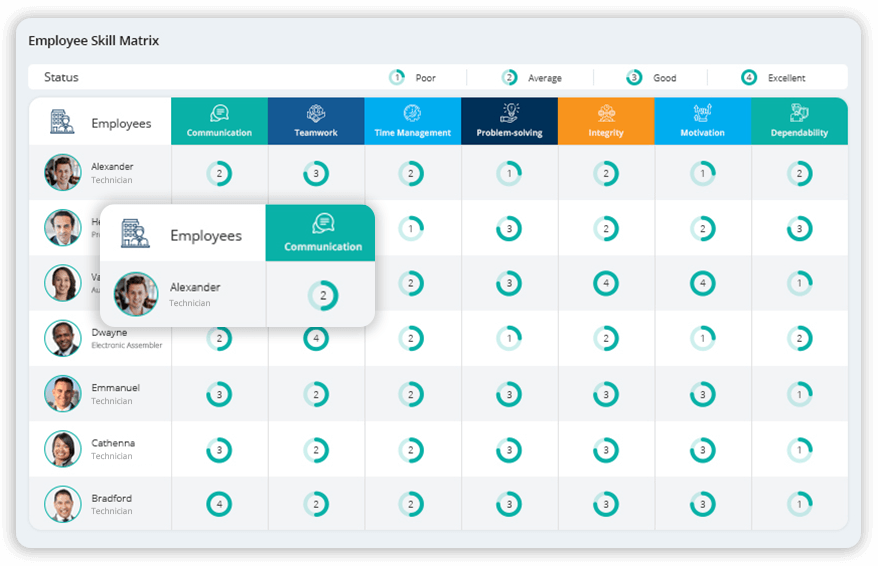 Team scheduling
Inter team communication and reporting
Time tracking functionality enables updating task completion and works progress in real-time.
Plan and execute tasks for timely deliveries
Multiple device access and multiple location tracking
Increasing efficiency with a clear idea of the workload
Technician skills matching the task requirements
Comprehensive Reports & Performance Dashboards
Get real-time insights into your projects and field service operations with customisable and configurable dashboards and reports in the HVAC Tcard system. The Analysis report gives the details of the technician and the projects they are involved in, and the Project delivery report analyses the project stage, whether on time delivered or delayed- waiting for services, survey needed, engineering review, in progress, ready to schedule or completed.
Dashboards
Turn your primary facility data into actionable insights and deliver the best of your HVAC field management services with custom dashboards. Dashboards provide a calendar view that displays real-time information about teams deployed in fields, all resources spent, and the time window for task completion.
A centralised, accessible record of your past and current data.
Work order graphs(Monthly and Daily work orders) in the calendar view delivering the complete logs of the work orders and assigned technicians.
Real-time visibility into workforce productivity.
Work in Progress report to keep the projects on track.
Log view of the email communications and alerts holding the complete details of the work orders.
Assigned work order register with a tabular overview of the assigned date, technicians, subcontractor and the project stages against a work order.
Activity dashboards with a comprehensive record of all the actions in the system.
Service Scheduling
Lose no time scheduling and dispatching your team! HVAC management Tcard software keeps account of your technicians and alleviates your stress of scheduling the services at the right time.
Accurately scheduling multiple work orders from different clients simultaneously.
Alerting the technicians once the work orders are assigned about what needs to be done on the job site.
Rescheduling work orders to multiple dates by using the drag and drop functionality.
Provides the service teams access to customer information, including the location and service history.
Notifying the technicians about the changes in their work schedules.
Maintains a record of the weekly or monthly HVAC schedules.
Read More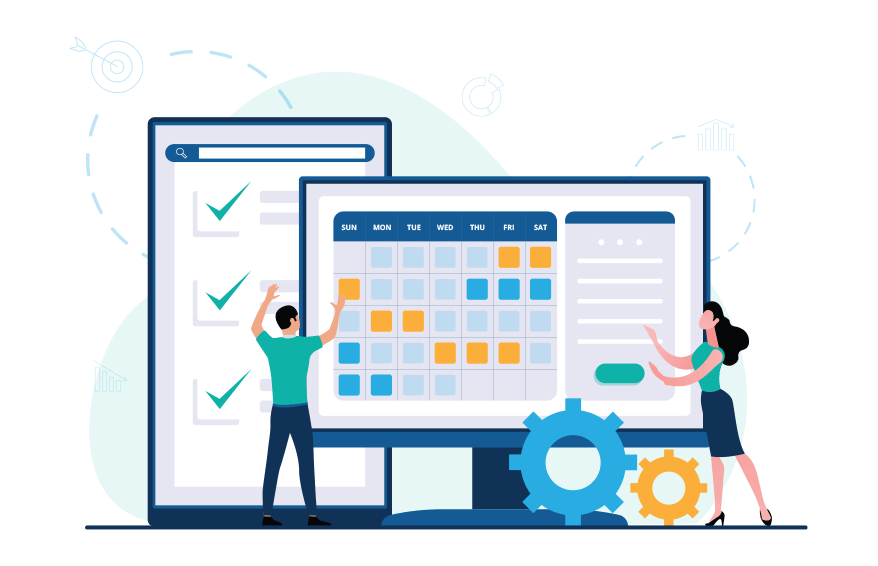 Client Management
Manage your customer records straight away with HVAC project management software by storing multiple customer contacts, service locations, and service history records.
Keep all the customer information in a single, easily accessible location.
Customer history and log note.
Access to the customer histories, streamline communication and improve response time.
All work that is performed for every single customer can be reviewed.
Store customer contact details, job history, asset records and communication logs.
Asset Management
Track all your assets and maximise the efficiency of your HVAC projects with the HVAC TCard system.
Cloud-based system for organising asset information and data.
Ensures that the required assets are available to the specific teams at the right time.
Record of when to replace the assets before it wears out.
The Material feature with the provision for adding the materials required for each trade or department.
The Tool option in the drop-down offering the complete list of the tools that the HVAC projects need, the history of each tool and the work order against which it is assigned.
The Equipment option gives the complete list of the equipment needed, its details, availability, history, current status and actions.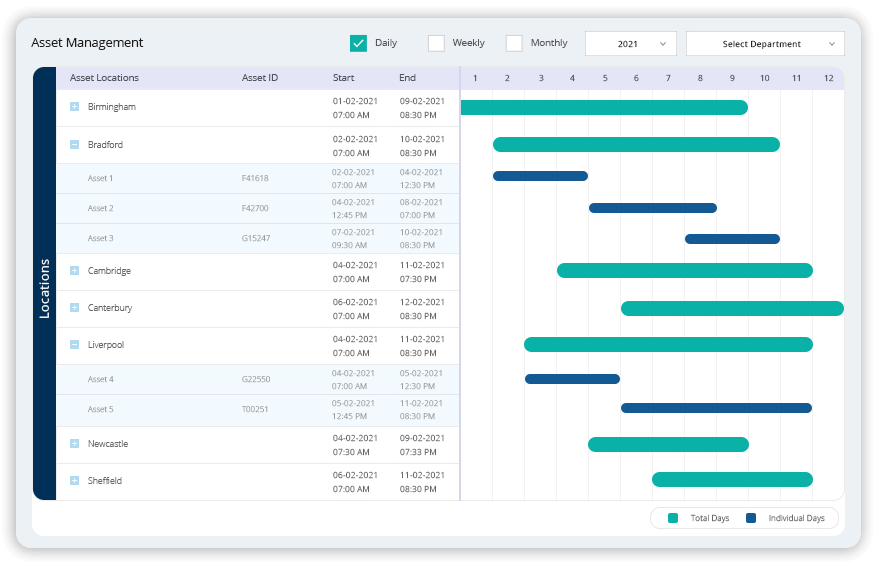 Subcontractor Management
Tracking your subcontractors and their job progress is no more challenging. Manage all your subcontractors in one place and ensure you are scheduling the right subcontractor for the job.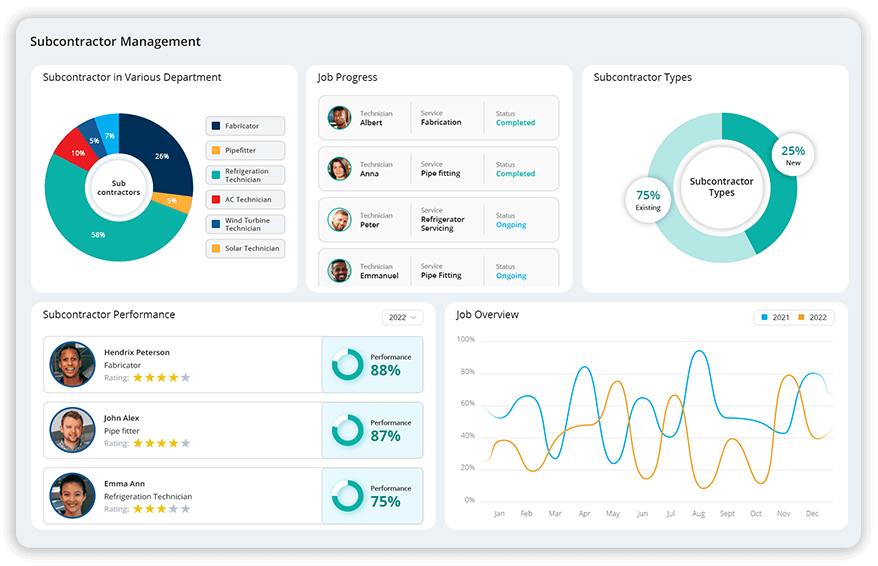 Manage multiple subcontractors on a single task and different tasks with various subcontractors simultaneously.
Track the subcontractor performance and job progress.
Access the contract details, contract terms, and work history of the previously completed work orders.
Details of the subcontractor contact, department or trade, availability and location.
Manage and monitor subcontractor activities and receive alerts.
Easy access to the list of subcontractors in your database.
Field Service Management
Organise your technicians across the office and field with the help of the HVAC management Tcard softwares!
Complete visibility into the locations and the tasks of your team.
Easy access and instant connection between the office and the fields.
Improved team communication and proper tracking of the job status.
Proper record of the materials used, working hours and details of the technician needed.
Keeping a record of the service histories.
Communicate job status in real-time in the office.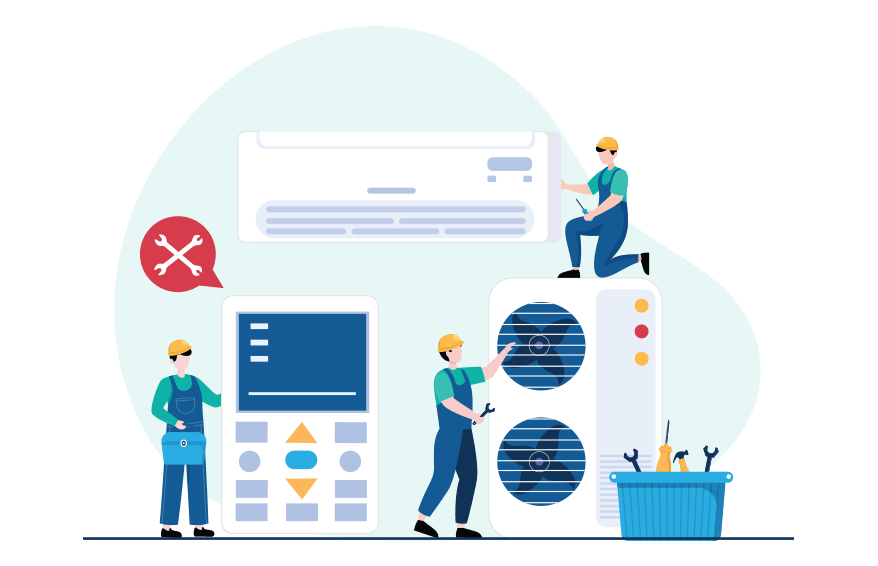 Invoicing
Digital Tcards can create and send invoices to customers in minutes directly from your fields, office, or automatically. You can get the status of all the invoices in one place.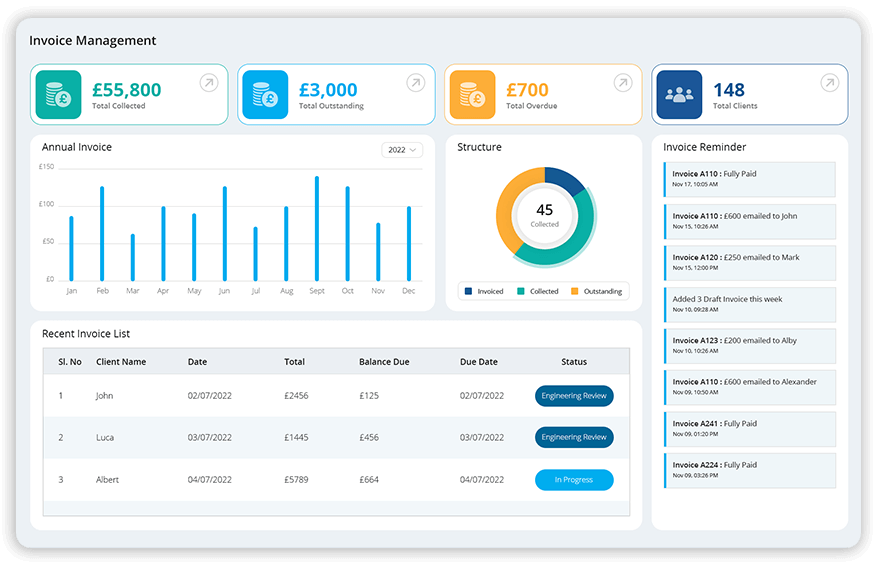 Giving the customer records of the proposed and completed works.
Track the work orders and convert them into estimates, whether one-off jobs or recurring services.
Convert estimates to work orders and invoices.
Reviewing checklists for managing job quality.
Send invoices instantly without double data entry.
Track your quotes and get status reminders.
Status of all the invoices at a glance.
Why Digital Tcard Systems when you can Opt for Physical Systems?
User-friendly interface
Multiple device access and easy integration
Keeping track of the process from the beginning to the end
Transparent communication
Managing multiple tasks simultaneously
Retrieval of data and analysis
Auto-generated custom reports
Real-time updates
Customisation
Read More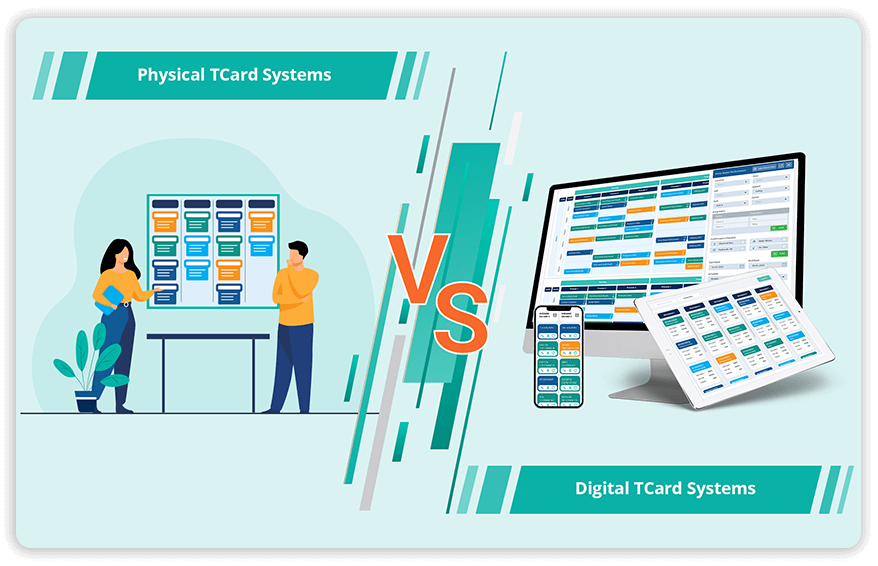 What is HVAC Service Software?
HVAC management software system provides digital solutions for the service management of the Heating, Ventilation and Air Conditioning industry. Be it your residential, construction and commercial HVAC projects, managing their service scheduling, dispatch and communication for the technicians in their fields, these software solutions boost the operational efficiency of your HVAC industry. Manage every aspect of the HVAC projects, from scheduling jobs to dispatching work orders, managing the materials, tools and equipment, monitoring the progress, and maintaining a customer history, HVAC service softwares can keep things uncomplicated.
What does the HVAC Management Software do?
HVAC management software facilitates all the essential functions of an HVAC business by observing the performance in real-time. The efficiency of the business operations is improved by eliminating the paper pen checklists and streamlining every part of the job cycle.
How can HVAC management software contribute to your company's growth?
From office scheduling and dispatching to field communications and client management, you can rely on the HVAC management softwares for effective management of your operations.
Carry out your operations from anywhere - Take your office anywhere with you. Use your mobile, tablet or laptop to manage the tasks, locate the technicians, communicate with them and keep track of the entire system, all with your single click.
Keep your entire team connected - Keep your team on a single page, whether in the field or the office.
More visibility and transparency - Real-time updation of the location and tracking of the entire fleet in a single system accessible to all.
Reduce Operational costs - The share of your operational costs that are spent on scheduling and processing the traditional HVAC system can be cut down at least by 60 % with the help of these software systems. You dont need to set up a team to manage these repetitive tasks. Better efficiency means lower operational costs.
Improved scheduling and tracking - Having a team far from the office installing or repairing works on the client units is challenging to manage without an efficient system. HVAC management softwares also eliminate the chances of errors happening, such as double booking, underbooking or overbooking.
Enhanced Analytics - Valid reports in your hand aid your analysis in identifying whether the company is meeting the key performance indicators or whether they are falling short. These accurate reports, produced from the updated information, can get valuable real-time insights into every factor.
What essential functionalities should you look for in your HVAC management system?
This list can help you understand what functionalities you should search for while opting for your HVAC management system.
Project and Field Management Services : Create your project plans, manage your schedules and receive real-time updates.
Dashboards with a calendar view : Get the Performance dashboards of your assigned projects in the calendar view with a single click.
Facility management system : Forecasting the asset maintenance and tracking the customer's planned maintenance schedule and service contracts are no longer challenging.
Work order management : Manage your work orders by placing them directly. Get all the necessary information about your work order in a single spot.
Task Management : Handle your tasks from end to end. Lack of clarity and missing data are no longer a question.
Inventory management : Keep an account of your current stock levels and inventories.
Team Coordination : Coordinate your team effectively. Ensure that real-time information and quick communications are not lost.
Comprehensive Reporting : Gain real-time insights into your projects and field service operations with customisable dashboards.
Service scheduling : Lose no time scheduling and dispatching your team! Schedule your services and technicians at the right time.
Client management : A single place for your customer records. Have access to your multiple customer contacts, service locations, and service history records.
Asset management : Track all your assets and maximise the efficiency of your HVAC projects with a cloud-based system for organising asset information and data.
Subcontractor Management : Fetch all the essential information about your subcontractors in a single click.
Integration with Other Applications
Don't be apprehensive about integrating your HVAC service software with other business applications. Digital Tcard for HVAC management integrates with other third-party applications with much ease. MES and ERP Integration is no more a tedious task.
How to choose the best HVAC software that suits your business?
Finding it difficult to choose the right software solution for managing your HVAC system? Well, it can be hard to decide which one fits your business. Before going into how you should choose the right HVAC software, let's see why you should invest in this.
Having management software can make your HVAC operations a piece of cake. Delivering the best to your customer can be your big lead.
Time-saving automation: Automating your repetitive tasks
Improved customer management: Monitoring the customer appointments and service history.
Better business insights: Better understanding of areas needing improvement.
And the list goes on. Want to know more? "How can HVAC management software contribute to your company's growth?" section can help you.
Now that you understand why you should choose it, let us move on to what you should look for in choosing the best HVAC software.
Easy-to-use interface : The software should be primarily user-friendly, which can make sense to you and your team. The easier it is to use, the more efficient the management will be. A simple user interface can save you time in growing your business rather than spending more time figuring out how to use the software. Also, keep in mind the more complicated it is, the more difficult it will be to train your staffs.
Accessibility options : Being accessible from any device at any time is another essential factor you should look for. Check for cloud-based HVAC software that can be accessed through any device, be it a desktop, laptop, tablet or smartphone. Whether in your field or office, ensure your data is available in a single click.
Customisable : Look for bespoke software solutions that can customise the application that fits your business. By allowing the customisation option, you can choose the right one that fits your flow, redefine your customer relations, create custom-generated reports and more.
Efficient field service management : Your HVAC software should be able to manage and organise the projects between your office and your sites. In a single dashboard, you are able to see the entire project status that is happening in your different fields and back office. Having a system that can have real-time updates is something that is going to be your biggest timesaver.
Scheduling and dispatching : Real-time scheduling and dispatching of your technicians and services at the right time to deliver the best of your services. Having real-time information about your projects can help you schedule appointments and estimate project timelines.
Work order management : It should be able to streamline your work progress completely, be it part of an existing one or new work order. From work order planning and execution and workforce management to attendance management, your software must make sure that no time of your team is lost in waiting or obscurity.
Team management : To effectively manage your task from the beginning to the end, you must first ensure your team coordination. Choose the software which can help you manage your team, providing them with real-time updates and speedy communication options.
Inventory Management : Go for the software with up-to-date inventory management that tracks your current stock level, spare parts, machinery components and installation equipment and the materials used by the technicians.
Asset Management : Have a system that can track the purchase and disposal of the assets such as equipment, materials or tools. This can help you ensure that your team has the required asset at the right time and also a complete history of it.
Reports and dashboards : HVAC software can create customised analytics reports to get real-time insights into your projects and field service operations. The dashboards in the calendar view should be able to provide updated information about the teams deployed in the fields, all resources spent and entire task completion. It should hold the centralised record of all your past and current data giving real-time visibility into the workforce productivity.
Integration with other applications : Understandably, you cannot manage your business with a single application or softwares. Integrations with other software can be crucial. So check for software that you can integrate with other management solutions.
Customer Management : Track your customer interactions, manage customer data and generate reports. You can centralise your customer data in one place. Better customer service can help improve customer retention.
Invoicing : The ability to invoice customers quickly and efficiently in the field and at the home office is another element that you should look for. You should be able to send invoices without the double entry of the data and automated reminder notifications. You will also be able to track your quotes and get status reminders.
From the above list, you can consider the relevant features for your business and choose the HVAC management software that suits your need. With the right one, you can provide better customer service and run your business more efficiently.
Why does your company need HVAC management software?
You need efficient HVAC management software to manage your HVAC projects effectively. It enables you to carry out your operations from anywhere and keep your entire team connected on a single page. It also lets you enhance your scheduling and tracking and generate valid reports and analytics.
How can HVAC management software increase my productivity?
Minimise operational costs by cutting down manual operations
Make schedules and tracking improvements
Boost client satisfaction through effective customer management.
Increase functional effectiveness
Enhanced analytics
What are the benefits of using HVAC management software?
Multiple device access and easy integration
Real-time scheduling of the tasks
Accurate location tracking
Increased efficiency
Cloud-based facility and asset management
Workforce management
Inventory management
Team coordination
Transparent communication
How does the HVAC management software help in project and field management?
HVAC management TCard software streamlines the operations, drives the efficiencies of the projects, and manages the projects by tracking them and managing the tasks and schedules.
Prevent double data entry and reduce room for errors
Dashboards with an overview of the project stages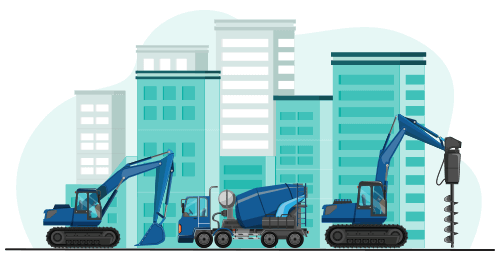 Planning for an equipment rental service?
Finding it difficult to manage your assets in the hire? Streamline the day-to-day rental processes and equipment logistics with our Digital Tcard solution for Plant Hire. Plan, schedule, forecast and optimise your resources with real inventory management. Gain real-time control of the yard and the hire by mapping the machinery storage locations.
Read More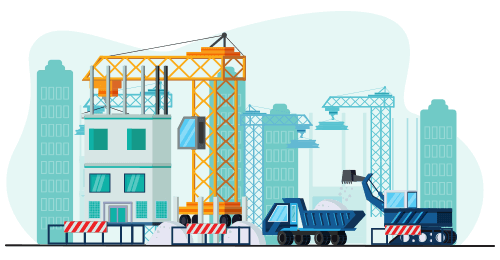 Finding it difficult to manage your multiple construction projects?
Enhance the efficiency of your construction processes by clearly planning and distributing the workload with our Digital TCard system for Construction. Track the progress of tasks in multiple locations. Allocate the job to the technicians using the different coloured T cards according to their skills and expertise. Get real-time status visibility of the construction projects in progress.
Read More
We Customise the Digital T Card App
for Different Industries