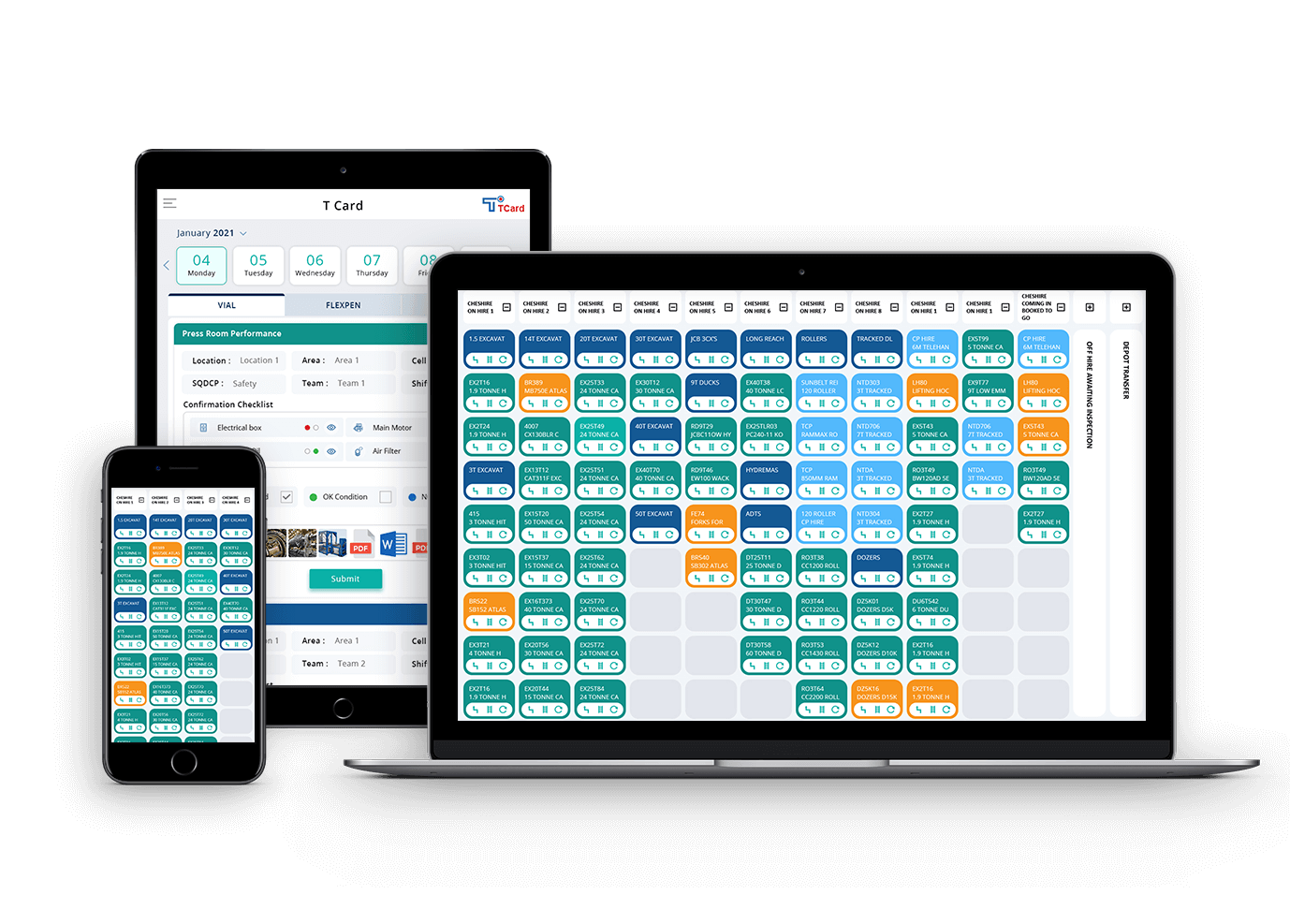 Plant Hire T Cards - One Solution for All
Asset management is no more tedious. Manage multiple assets easily.
Start Free Trial
Demo Video
Trusted Partner

for Businesses
Across the World

Irrespective of industries, Digital T Card Software enhanced their business processes.
What is Plant Hire?
The Plant Hire or Equipment Rental belongs to the service industry. They provide machinery, equipment, vehicles and tools of all kinds for a limited period to users who are not willing to buy the equipment. There are more than 17,000 equipment rental companies in Europe alone, and it is now growing quickly in the Middle East, Asia and Latin America. There are several notable advantages of plant hire.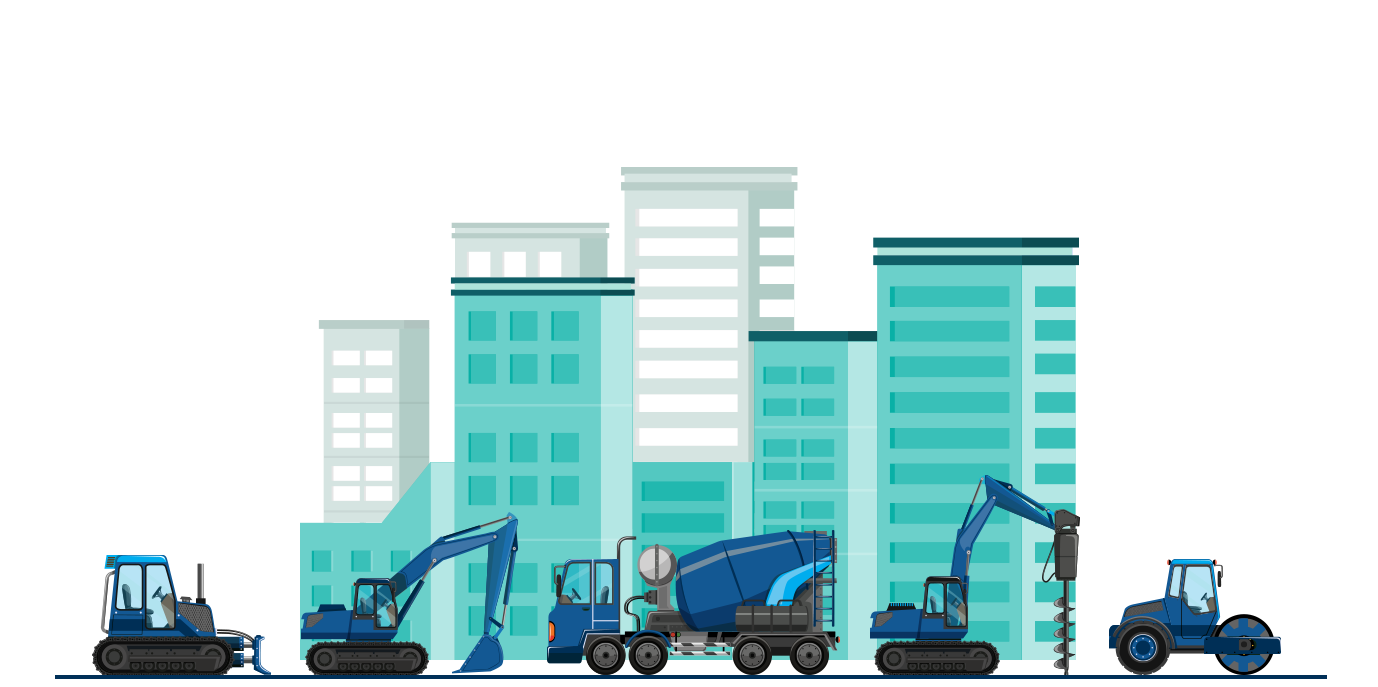 Access a wide range of machinery and tools for a low cost
Hire what you need, for the time that you need it
Affordable and high-quality equipment from a wider variety of options
Storing large equipment is no longer an issue
Bespoke equipment packages and a cost-effective solution
No More Tedious Asset Management
Asset Management is tedious while renting out a large number of equipment or vehicles. Managing multiple types of equipment and their details for different user is time-consuming. Using the Digital T Card system, asset management is easy. Details and status of all rented, hired or damaged assets are maintained in a single dashboard. Users can filter assets according to the asset ID, location, reference number, etc.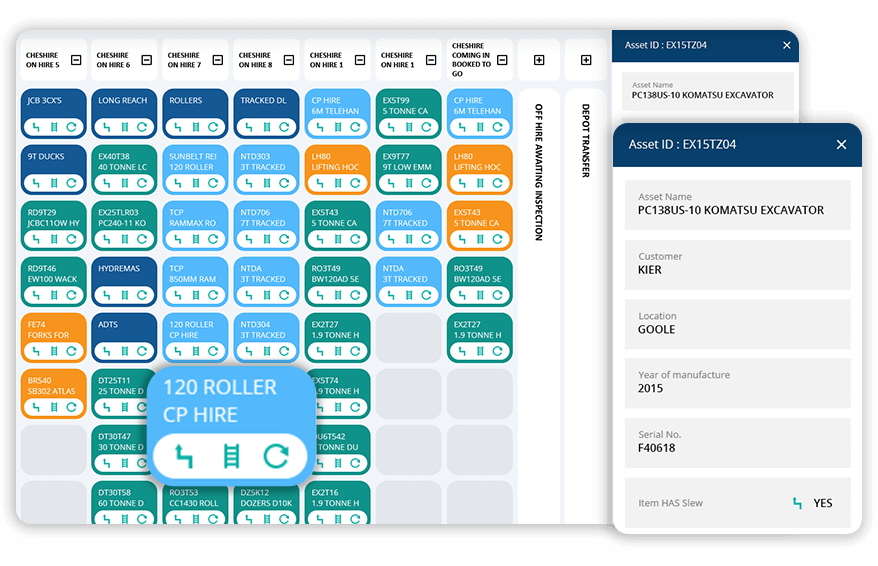 One to One Parent-Child Relationship
Users might hire multiple types of equipment at once (the Main asset and ancillary assets). Using a parent-child relationship, organisations can effectively manage the details of all equipment. A parent card is created at first, and following it, the child cards. Under a single parent card, users can see the other rented equipment details.
Drag and Drop, Multi-Colour Cards, Flexible
T card software offers multi-colour cards and drag and drop feature to ease asset management. Using multi-coloured cards, users can identify the parent-child cards, breakdown asset, Cross hired assets etc. The drag and drop feature will make the status changing process more manageable. While moving the parent card, the associated child cards will also be moved. Users can also detach a child card and change it's status.
Read More
How Digital T Cards Help You?
Digital T cards are the best visual management tool to streamline and optimise all tasks and processes. No more excel and paperwork. Keep track of your work digitally.
Start Free Trial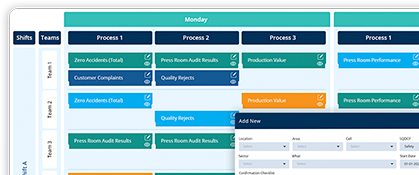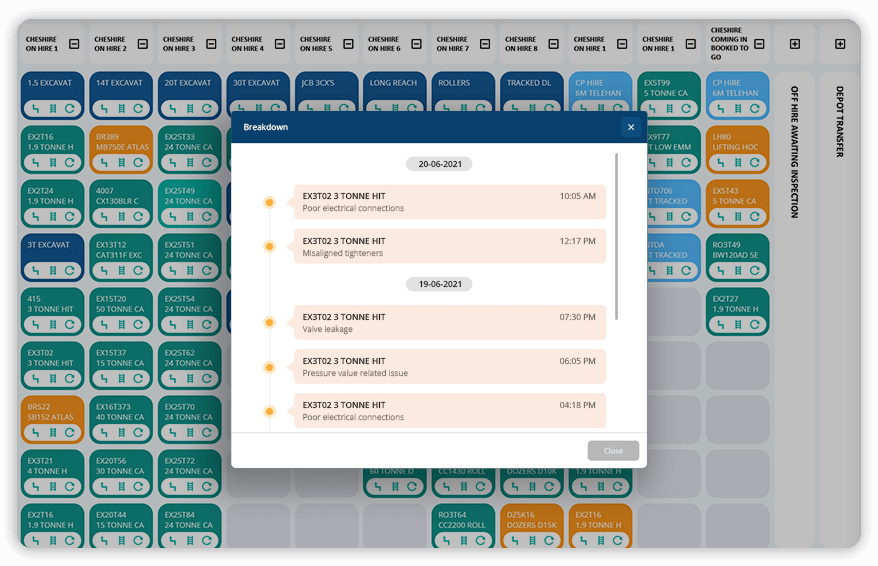 Instant Breakdown Asset Indication
Breakdowns are common in the plant hire sector. To effectively make use of the assets, users must be aware of the available resources. Breakdown asset indications allow users to track and manage their assets continuously. Breakdown assets are indicated separately in the dashboard, and these assets can be shifted to the maintenance area.
Depot Transfer In and Out
T card systems provide dashboards for different locations/depots. When an asset is transferred from one depot to another, users can transfer the asset's respective cards. Managers of respective depots will get notifications of the transfer. While moving cards, all asset details and card information will be transferred to the new depot.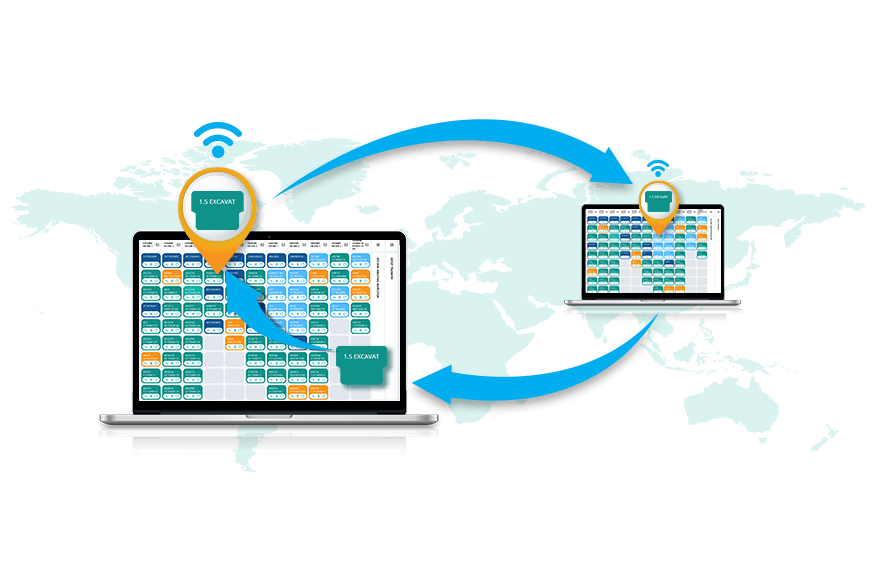 Dynamic and Downloadable Reports
Users will get auto-generated reports based on the Location, Asset no, Transfer, Assets, Date, User etc. Using these reports, users can identify the most used asset, foresee the future demands and plan accordingly. The reports are available in multiple formats and are downloadable.
Read More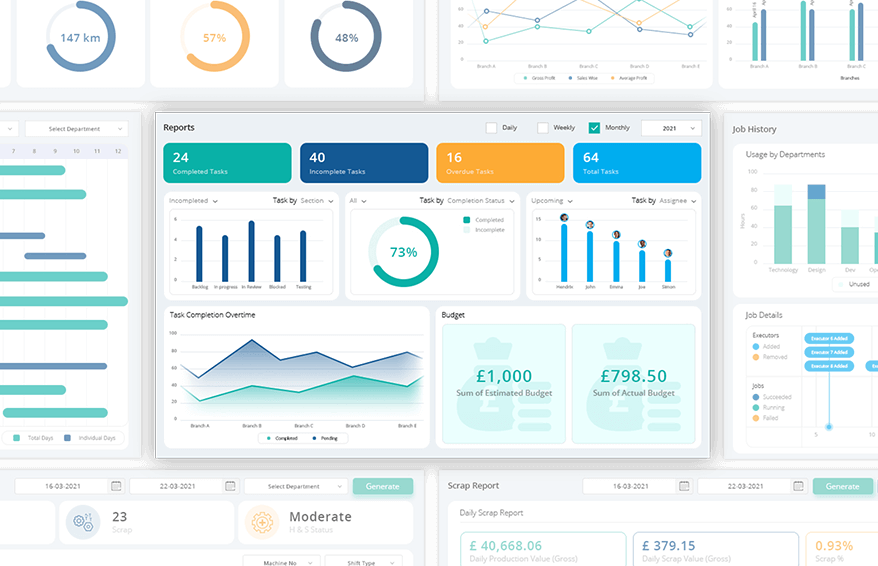 Request Your 1-Month Free Trial!
T cards are a simple and effective tool to track and record various processes in any business. Irrespective of industries, all organisations benefit from t cards.
We Customise the Digital T Card App
for Different Industries